Weaver Family
Talk

0
1,096pages on
this wiki
Weaver Family
Relationship
Widow and Kids
Teammates
Linda Weaver
Rebecca Weaver

Rachel Weaver
Rolly Weaver

---

Season
Family Edition
Place
3rd
Average Age
23.75
Average Placing
3.27

---

---
Linda Weaver, Rebecca Weaver, Rachel Weaver, and Rolly Weaver are a team of Widow and Kids on the family edition of The Amazing Race.
Age: 46
Hometown: Ormond Beach, Florida
Age: 19
Hometown: Ormond Beach, Florida
Age: 16
Hometown: Ormond Beach, Florida
Age: 14
Hometown: Ormond Beach, Florida
CBS Biography
Edit
The Weaver family hails from Ormond Beach, Florida. Linda, the mother of three, lost her husband and their father almost two years ago in an accident at Daytona International Speedway. Linda's children are Rebecca, 19, Rachel, 16, and the lone man of the team, Rolly, who's 14.
Since her husband's death, Linda, 46, has been forced to play the role of both breadwinner and nurturer. Linda is an elementary school teacher who is hoping her experiences on THE AMAZING RACE will alleviate some of the heartache from the past couple of years.
Rebecca enjoys surfing and horseback riding. Her proudest accomplishment is getting through the turmoil of losing her father without going crazy.
Rachel is a junior in high school who likes four-wheeling and riding horses.
Rolly, the youngest team member, enjoys football and basketball. He admits that he's running the Race for his father.
All three children and their mother have dealt with their loss in their own distinct ways and are looking forward to the experience of traveling and competing together as a family.
Family Edition
Edit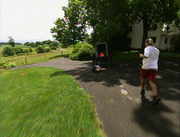 Leg 1: 3rd

Going downhill, the buggy began picking up speed.
The brake didn't work and the buggy ran over Linda and eventually crashed.
Linda wasn't hurt but the buggy got damaged in the crash forcing them to switch to "Build It".
Tells the Gaghans to check the brakes.
Were in a footrace to the pit stop against the Gaghans.
Even though Rolly was the first to the mat, the Weaver women couldn't keep up with Carissa Gaghan.
Finished 3rd.

Leg 2: 1st
Leg 3: 5th
Leg 4: 5th
Leg 5: 2nd
Leg 6: 5th (Yielded by the Paolos)
Leg 7: 2nd
Leg 8: 3rd
Leg 9: 4th (Yielded by the Linzes; Non-Elimination)
Leg 10: (2nd) 3rd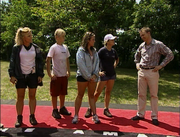 Memorable Moments
Edit
Finished in 3rd place because they struggled to stay ahead.
Franchise
Edit
Only team to have three team members under 20 years of age.
Rolly, age 14 is the youngest to complete 6 Roadblocks, and the youngest contestant to be in the final three (Jacob of Constantine & Jacob, the youngest contestant to be made it in the final three in standard format).
First ( so far the only ) Family to be Yielded twice.
Only Family to be Yielded.
First team to be yielded twice.
Family Edition
Edit
Lowest average placing team in the final three, 3.27
Although Rolly is the youngest, he is the fastest of the team.
External links
Edit
Want to play Survivor yourself?

Join our version, Survivor: Wikia - Sardinia!