Vince & Sam
Talk

0
1,002pages on
this wiki
Vince & Sam
Relationship
Best Buddies
Teammates
Vincent "Vince" Chung
Samuel "Sam" Wu


---

Season
Asia 3
Place
1st
Age Average
32
Average Placing
2.45

---
Vincent "Vince" Chung and Samuel "Sam" Wu are a team of Best Buddies on the 3rd season of The Amazing Race Asia.
Age: 32
Hometown: Hong Kong
Age: 32
Hometown: Hong Kong
AXN Biography
Edit
Both started out as teachers but in their spare time, one is a master of words while the other plays with words. Meet Vince Matthew Chung, the former primary school teacher turned full time comedian cum host, and his best bud Samuel Wu, a university lecturer who ranks as one of the top players on the online word game, Prolific.
For those wondering, Prolific is a word puzzle much like the classic Boggle game and yes, this shows how quick thinking the duo, who make up Team Hong Kong, can be. Having met three years ago while working in Hong Kong, the 32-year-olds became fast friends due to similar passions in a variety of things, from acting, hosting, stand-up comedy, and most importantly, partying.
They actually met via mutual friends at a party and things since then have been a blast. Recalls Vince jokingly, Sam "wouldn't leave the area where the food was being served."
This also will not be the first time that the friends have participated in a competitive event together. Vince once made it as a finalist in the first ever nationwide stand-up comedy competition, "The Funniest Person in Hong Kong", and if you hear Sam tell the story, the jokes were all Sam's. "I was very proud of him," enthuses Sam. "They were all my jokes of course, but he denies it vehemently."
One thing that does stand in their way though is their hot headed nature, which has led to confrontations. Sam too has to deal with physical fears as he is terrified of needles and bees. He says, "I was hospitalized after getting stung in the head by a hornet when I was four and since then, I've had a major phobia and if anything flies near or around my head, I freeze instantly."
This is why Sam reckons that Vince is the more physical one, whereas he is the thinking part of the group. And what is their overall strategy? Sam says it is to, "always be part of the pack, and then break away to lead the pack in the middle legs of the race".
But what if it doesn't work? Vince jokes, "I want to bring banana peels to throw onto the ground so that teams running behind us will slip on them."
Yes, Vince is the more competitive of the duo, but it's because being on top is in his blood. Vince has also joined various sports teams, from softball, baseball to football throughout his life and swam competitively from age six to university.
Don't dismiss Sam either as he too can be single minded in his endeavors. Back in 2001, a desire to lose some weight made Sam go on a diet that saw him shed 20kg over a five month period. "I went from an obese 80kg to a 60kg, through rigorous exercising and dieting," he recalls.
The one thing the duo will do however, is to soak up every experience on this race because this could be their last hoorah, since Vince might be leaving Hong Kong in the near future. You might say they have nothing to lose, but everything to strive for.
Asia Season 3
Edit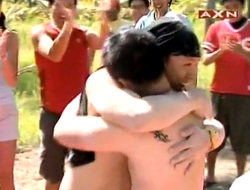 Leg 1: 7th
Leg 2: 3rd
Leg 3: 3rd
Leg 4: 2nd
Leg 5: 1st (Fast Forward)
Leg 6: 1st
Leg 7: 2nd
Leg 8: 4th
Leg 9: 1st
Leg 10: 3rd (4-hour penalty)
Leg 11: 1st (Winners)
Memorable Moments
Edit
Franchise
Edit
Highest finish by a male team, 1st Place (tied with Rob & Brennan, Chris & Alex, Reichen & Chip, BJ & Tyler, Tyler & James, Dan & Jordan, Bates & Anthony, Adrian & Collin, Richard & Richard, Carlos & Mauricio, Nicolás & Cristóbal, Tyler & Nathan, Shane & Andrew, Shay & Guy, Morten & Truls, Baggio & Thành Phúc, Liu Weiwei & Lei Sheng and Josh & Brent).
Highest finish by a team with an age average of over 30, 1st place (tied with Reichen & Chip, Tammy & Victor, Nat & Kat, Adrian & Collin, Richard & Richard, Tamara & Matías, Carlos & Mauricio, Shane & Andrew, Shay & Guy, and Patrícia & Sane).
One of 53 teams to never check in last at a pit stop and the finish line in their career.
First Hong Kong team to win.
Highest average placing team with four legs won in a season, 2.45
Most legs won, 4 legs
Highest average placing team, 2.45
Highest average placing team in the final three, 2.45
Last male team standing.
External links
Edit