Uchenna & Joyce
Team Profile
Members
Uchenna Agu
Joyce Agu
Age
40, 42 (Uchenna)
44, 46 (Joyce)
Hometown
Houston, TX
Relation
Married
Occupation
Energy broker (Uchenna)
Sales manager (Joyce)

---

Legs Competed
12
Placement
1st

---

Legs Competed
9
Placement
5th
Gallery
Link
Uchenna Agu and Joyce Agu are a Married team on the 7th season of The Amazing Race, and the all-star season of The Amazing Race.
Uchenna & Joyce are a married Team from Houston, Texas, who are going through an extremely challenging period in their lives. Both worked for now-bankrupt companies that experienced highly publicized accounting scandals: Uchenna worked for Enron and Joyce worked for WorldCom. Uchenna and Joyce's primary motivation for participating in the Race is to regain some of the closeness they've lost during these trying times.
Uchenna grew up in Los Angeles and now works as an energy broker in Houston. Uchenna and his wife have been through some challenging financial and emotional times as of late. After several failed attempts to get pregnant, they tried in-vitro fertilization, but it was unsuccessful. Uchenna describes himself as competitive and extroverted, and he enjoys basketball, scuba diving and horseback riding.
Joyce was born in Mississippi and raised in San Diego, California. Following her own layoff from WorldCom, Joyce now works in sales in Houston. Joyce and Uchenna desperately want children, and their numerous failed attempts has caused tension within their relationship.
Both are adventurous and ready to compete. Both have hinted that if they won the Race they would use the prize money for additional in-vitro fertilization procedures.
All-Stars (2007)
Edit
Uchenna and Joyce are one of the most beloved Teams from any season of Race. The winners of Season 7, Uchenna and Joyce were relentless and stopped at nothing to win the $1 million prize...including shaving their heads.
They have known each other for 16 years and have been married for seven of those. Both have admitted that the continued inability to start a family has caused a strain on their marriage, but are looking to the Race to get their relationship back on track.
This thrill seeking duo will stop at nothing to win the Race as they proved in Season 7, when without hesitation, they shaved their heads for good luck after partaking in the "Fast Forward" task. A decision that moved these tough competitors to the front of the pack and no doubt granted them a stroke of luck for the rest of the Race.
Uchenna describes himself as competitive, fair and charismatic, while Joyce claims to be caring, determined and sensitive. Will their competitive nature and luck be enough to propel them to another victory this time around?
The Amazing Race 7
Edit
Race History
Edit
Leg 2: 4th
Leg 3: 2nd
Leg 4: 3rd
Leg 5: 6th
Leg 6: 3rd
Leg 7: 3rd

Started the leg in 3rd place.
Move Logs: Uchenna
Originally arrived at the pit stop in 3rd, but were informed that they did not complete the Roadblock correctly and were told to finish it before they check in.
They discovered that Uchenna took the flag off the post without taking the post itself.
They corrected their mistake
Because of a sizeable lead over the other three teams, this mistake did not affect their placement.

Leg 8: (3rd) 1st (Fast Forward)
Leg 9: 1st
Leg 10: 3rd
Leg 11: 3rd (Non-Elimination)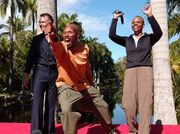 The Amazing Race: All-Stars (2007)
Edit
Leg 1: 7th
Leg 2: 5th
Leg 3: 2nd
Leg 4: 6th

Started the leg in 2nd place.
Find Team Letter: Joyce
Arrived 6th
Helped Charla & Mirna arrive in 7th place

Leg 5: 7th (Non-Elimination)

Started the leg in 6th place.
Uchenna performed the Roadblock

Leg 6: 3rd (30-minute penalty)

Started the leg in last place.
Uchenna performed the Roadblock
Arrived 3rd and were assessed a 30-minute penalty for not arriving in 1st after being marked for elimination. It didn't affect their placement since Dustin & Kandice hadn't arrived yet.

Leg 7: 3rd
Leg 8: 1st (Fast Forward w/ Oswald & Danny)

Started the leg in 3rd place.
Teamed up with Oswald & Danny
Both teams won the Fast Forward
Checked in with Oswald & Danny to the pit stop by grouping together to earn 1st place
Oswald & Danny gave the pit stop prize to Uchenna & Joyce
Leg 9: 5th (Eliminated)

Started the leg in 1st place with Oswald & Danny.
Unfortunately, their flight to Frankfurt landed ten minutes late and couldn't make their connecting flight to Kuala Lumpur in time and had to wait the next day for the next earliest flight
Arrived at the pit stop last and were eliminated.
Post-Race
Edit
The in vitro fertilisation (IVF) they talked about getting after winning Season 7 ultimately failed.
After the race, they founded a charitable children's organization in Houston, Texas. They hold, "The Great Raise," a Houston-version of the Amazing Race, where teams compete around the Houston area to win money for the charities.[1]
In a 2011 interview, Joyce revealed that she and Uchenna were divorced. However, they still remain good friends.
References
Edit
Uchenna & Joyce's Facebook: /jragu
Hey! Want to play Survivor yourself?

Join our version, 703 Survivor!