Tyler & James
Talk

0
1,002pages on
this wiki
Tyler & James
Relationship
Models
Teammates
Tyler Denk
James Branaman


---

Season
10
Place
1st
Age Average
28
Average Placing
2.5

---
Tyler Denk and James Branaman are a team of Models on the 10th season of The Amazing Race.
Age: 29
Hometown: Los Angeles, California
Age: 27
Hometown: Los Angeles, California
CBS Biography
Edit
Tyler & James are best friends who have each had their share of hard knocks. Several years ago, both men found themselves in rehab for addiction problems and were forced to get to sober. Tyler & James have since embraced their sobriety and have a new lease on life, working as models in Los Angeles, California.
Tyler is admittedly the more intense of the two and has a shorter fuse than James. Since he has traveled the world as a model, Tyler is right at home in any foreign location. He considers himself to be athletic and intelligent and enjoys surfing and golfing.
James has also trekked around the globe as a model. He claims that he can handle stressful situations better than Tyler, a skill that will surely be tested from the moment Phil says the word "go." He describes himself as artistic and reliable and enjoys painting and photography.
Although their traveling experience certainly gives these charming guys a leg up on the competition, will their fun-loving personalities and big smiles be enough to carry them across the finish line first?
Season 10
Edit
Leg 1: 1st
Leg 2: 2nd
Leg 3: 2nd
Leg 4: 3rd
Leg 5: 6th
Leg 6: 6th
Leg 7: 2nd
Leg 8: 2nd (Fast Forward w/ Rob & Kimberly)

Teamed up with Rob & Kimberly.
Both teams went for the Fast Forward.
 : Both teams won the Fast Forward.
: Arrived 2nd.

Leg 9: (1st) 1st
Leg 10: 1st

Chose not to yield
 : James
Grind It
Got out of their car and ran to the pit stop.
Halfway there however, James quickly realized they forgot their good luck charm to present at the pit stop.
When they got the charm they found themselves in a footrace against Lyn & Karlyn.
: Arrived 1st and since their good luck charm matches the one worn by the pit stop greeter they won a Sprint phone with a year's subscription for each team member.

Leg 11: 3rd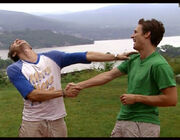 Memorable Moments
Edit
Broke away from Rob & Kimberly because their cab driver has an EZ Pass that allows them to go through the toll booth faster than the slower cash lane.
Franchise
Edit
Highest finish by a male team, 1st Place (tied with Rob & Brennan, Chris & Alex, Reichen & Chip, BJ & Tyler, Dan & Jordan, Adrian & Collin, Vince & Sam, Richard & Richard, Carlos & Mauricio, Nicolás & Cristóbal, Tyler & Nathan, Shane & Andrew, Shay & Guy, Morten & Truls, Baggio & Thành Phúc, Liu Weiwei & Lei Sheng and Josh & Brent).
Highest finish by a team with an age average of over 20, 1st place (tied with Rob & Brennan, Chris & Alex, Flo & Zach, Freddy & Kendra, Linz Family, BJ & Tyler, Eric & Danielle, TK & Rachel, Nick & Starr, Meghan & Cheyne, Dan & Jordan, Zabrina & Joe Jer, and Charlie & Rachel).
First team of former drug addicts.
One of 53 teams to never check in last at a pit stop and the finish line in their career.
Youngest winning male team to be the highest average placing team in a season, 28.
Season 10
Edit
Youngest male team, 28.
Highest average placing team, 2.5
Most legs won, 4 legs.
Youngest team in the Final Three, 28.
Highest average placing team in the final three, 2.5
Last male team standing.
Both Tyler & James are friends with Survivor: Panama winner, Aras Baskauskas.

James even appeared in Aras's hometown congratulation video that was played when he won Survivor.
External links
Edit