Tramel & Talicia
Talk

0
1,002pages on
this wiki
Tramel & Talicia
Relationship
Brother/Sister
Teammates
Tramel Raggs
Talicia Raggs


---

Season
3
Place
11th
Age Average
25.5
Average Placing
10.5

---
Tramel Raggs and Talicia Raggs are a Brother/Sister team on the 3rd season of The Amazing Race.
Age: 29
Hometown: Gary, Indiana
Age: 22
Hometown: Los Angeles, California
CBS Biography
Edit
Tramel and Talicia have a close relationship, but like any other siblings, they have disagreements. Originally from Gary, Indiana, Talicia, 22, now resides in Los Angeles and works as an assistant to a sports agent, while Tramel, 29, is a senior at Indiana University. Since they don't see each other everyday, they are excited to be able to spend more time together and compete for $1 million.
This competitive brother and sister Team describe themselves as "the male/female counterpart of the same person, we are so alike. We like the same things, eat the same food, share the same thoughts and make the same mistakes." They believe that with Tramel's intuition and Talicia's street smarts they will be able to win.
Since they're seven years apart in age, they have also lived very different lives. Talicia has fought and struggled through everything, while Tramel has coasted through life on his wits and charms. He scored a 1300 on his S.A.T. without any preparation, while she got 1100 and stayed up many long nights studying. Talicia feels that Tramel takes the easy way out of things and hopes that the Race will give her brother a taste of the real world.
Talicia's most valuable item in her backpack is her noise-reducing headsets, which "will drown out the nonsense of the world," while Tramel's is a picture of his family and, of course, his clothes.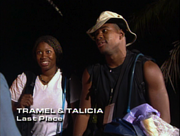 Memorable Moments
Edit
Eliminated when their waverunner capsized multiple times at the Detour.
Franchise
Edit
Youngest male/female team who didn't earn a spot in the final three, 25.5
Lowest average placing male/female team, 10.5
Lowest average placing male/female team who didn't earn a spot in the final three, 10.5
First male/female team to be eliminated.
External links
Edit