Toni & Dallas
Talk

0
1,003pages on
this wiki
Toni & Dallas
Relationship
Mother/Son
Teammates
Toni Imbimbo
Dallas Imbimbo


---

Season
13
Place
4th
Age Average
36.5
Average Placing
3.1

---
Toni Imbimbo and Dallas Imbimbo are a Mother/Son team on the 13th season of The Amazing Race.
Age: 51
Hometown: Woodside, California
Age: 22
Hometown: Woodside, California
CBS Biography
Edit
Toni and Dallas have always been there for each other and will let nothing come between them. They are hoping the Race will provide them with some quality family time they've been missing out on since Dallas has been away at college - and maybe even a million dollars.
As a single mother, Toni sacrificed quite a bit to give Dallas a great childhood. Now Dallas is in college and living on his own.
Dallas can be very persuasive and enjoys getting people to do what he wants. His pet peeve about his Teammate is that she tells very long-winded stories. He describes himself as outgoing, persistent and passionate.
Toni considers herself a leader, but knows that she'll need to lean on her son a bit more by relying on Dallas's strengths rather than telling him what to do. Her biggest accomplishment has been raising her son. She currently works for herself as a corporate accounting consultant.
With Dallas's constant flirting and sarcasm and Toni's laughter and personality, they are sure to be one of the most entertaining Teams on the Race.
Season 13
Edit
Leg 1: 6th
Leg 2: 5th
Leg 3: 2nd
Leg 4: 4th
Leg 5: 2nd
Leg 6: 3rd
Leg 7: 2nd
Leg 8: 2nd
Leg 9: 1st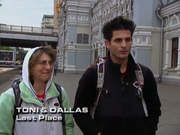 Leg 10: 4th (Eliminated)

Started the Leg in 1st place.
2 other teams caught up to them at the submarine.
Dallas did the Roadblock
Struggled with it, and eventually got a 30-min penalty (3 incorrect guesses x 10 minute penalty).
Tina helped him
On the way to meet his mom, Dallas lost his fanny pack, which contained all their money and passports.
Because of this, they had to beg for money.
Took a metro to Sokolniki Park instead of a taxi and had to go back and take suitable transportation.
By the time they got back to Sokolniki Park and did the Detour, the 3 other teams have already checked in to the Pit Stop and they were eliminated from the race.
Memorable Moments
Edit
Eliminated when Dallas mistakenly left his bag with his passport and money in the cab.
Franchise
Edit
First mother/son team to win a leg.
First eliminated team not to be present at the finish line.
Oldest mother/son team to win a leg, 36.5
Highest average placing male/female team with one leg won in a season, 3.1
Highest average placing team with one leg won in a career, 3.1
Oldest male/female team to win a leg and come in 4th, 36.5
Season 13
Edit
Lowest finish by a team who won a leg, 4th place.
Lowest average placing team who won a leg, 3.1
Highest average placing team who didn't earn a spot in the final three, 3.1
Only team to not win consecutive legs.
External links
Edit