The Amazing Race: All-Stars (2014)
Talk

0
1,089pages on
this wiki
For the previous season with the same subtitle, see The Amazing Race: All-Stars (2007).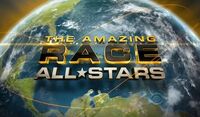 The Amazing Race: All-Stars (2014)
February 23, 2014 → May 2014
Filming Dates
November 16, 2013 → December 6, 2013
Visited
4 Continents, 9 Countries, Cities
Distance Traveled
35000 miles (56000 km)
Legs/Episodes
12 Legs / 11 Episodes
Previous Season
Next Season

The Amazing Race: All-Stars (2014) is the twenty-fourth installment of the reality television series, The Amazing Race. The series was renewed on March 27, 2013 for the 2013–14 TV season. This is the second season to have All-Stars subtitle (Season 11 was the first) and the third to feature players from different seasons. This season premiered on February 23, 2014.
Main article: The Amazing Race 24 Teams
The following teams participated in the Race, with their relationships at the time of filming. Placements are listed in finishing order:
All contestants appeared in a previous season.

Note 1: At the Starting Line, Phil announced that Bopper was not able to enter the race after his doctor dissuaded him to race due to pancreatitis. He was replaced by Mallory Ervin of Gary & Mallory from Seasons 17 and 18, also from Kentucky, to race with his original partner Mark.
Note 2: Several teams left the pit start of the second leg in a different order than their placements in the previous leg. These teams were:

Note 3: Jet & Cord decided to give their other Express Pass to Caroline & Jennifer in leg 2. Caroline & Jennifer later used it to bypass the Roadblock in the same leg.
Red = team eliminated.
Orange = non-elimination leg.
Coral = leg number had no mandatory rest period at the Pit Stop and ordered to continue racing.
Purple = team used the Express Pass.
Blue = team who came in last on an elimination leg was saved by the team with the Salvage Pass.
Fuchsia = team used the Salvage Pass to gain a time advantage.
Green ƒ = team won the Fast Forward.
Yellow > = team used Yield • < = team received Yield.
Brown » = team used U-Turn • Brown « = team received U-Turn.
Gold ∪ = team penalized for Automatic U-Turn.
Blue H = team penalized with a Hazard.

Click here for this season's Route Map
Legs and Episodes
Edit
Route Info ·

Detour ·

Roadblock ·

Fast Forward ·

Yield ·
Intersection ·

U-Turn ·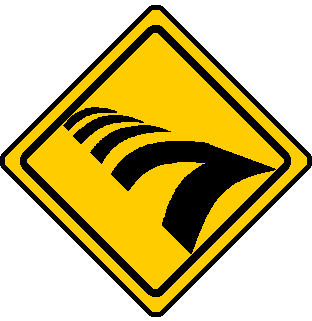 Speed Bump ·

Hazard ·

Pit Stop ·
Non-elimination Leg ·


Air travel ·

Bus ·

Ferry ·
Train ·
Car ·

Bicycle
Leg 1 - Episode 1 (United States → China)
Edit
Title: "Back in the Saddle" - Cord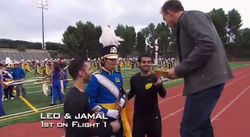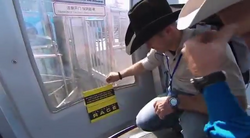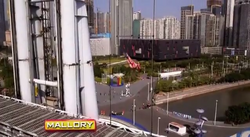 Leg 2 - Episode 2 (China)
Edit
Title: "Baby Bear's Soup" - Mark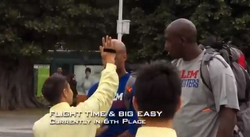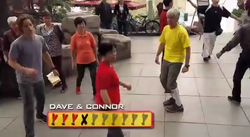 Leg 3 - Episode 3 (China → Malaysia)
Edit
Title: "Welcome to the Jungle"
Memorable Moments
Edit
During the second leg, a total of 7 teams got to the pit stop near the same time. Brandon & Rachel got there first, followed by Margie & Luke, Caroline & Jennifer, Dave & Connor, Flight Time & Big Easy, Jet & Cord, and the moment ended when Leo & Jamal got there 7th and they all watched as each other teams checked in. This also confused Phil, who mixed up Dave & Connor's and Flight Time & Big Easy's placements.
Mallory forgetting Mark's backpack, causing their elimination on leg 2.
Brendon & Rachel winning their first ever leg.
Franchise
Edit
Mark & Mallory

First all-star team to feature two people from different seasons (Mark is from Season 20, while Mallory is from Seasons 17 and 18).
Pitstop Greeters
Edit
Click here for this season's Greeters
External links
Edit