The Amazing Race: A Corrida Milionária
Talk

0
1,002pages on
this wiki
This Season Article is in need of clean-up. You can help by editing this article so it conforms to the Season Article Format. Please

remove

this template once cleanup is complete.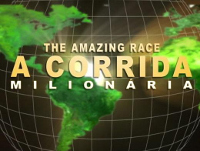 The Amazing Race: A Corrida Milionária
October 13, 2007 → January 5, 2008
Filming Dates
August 15, 2007 → September 17, 2007
Visited
1 Continents, 2 Countries, 38 Cities
Distance Traveled
9321 miles (15000 km)
Legs/Episodes
13 Legs / 13 Episodes
Previous Season
first season
Next Season
last season

The Amazing Race: A Corrida Milionária (Portuguese for The Millionaire Race) is a Brazilian version of the popular franchised reality television show The Amazing Race. It was produced and aired by the Brazilian television network RedeTV! and hosted by Rony Curvelo. A one-episode pilot was shot in northeast Brazil in 2006. Applications were taken until July 2007 and with filming occured in South America during September 2007. The season premiered on October 13, 2007.

The following teams participated in the Race, with their relationships at the time of filming. Placements are listed in finishing order:
An * indicates that the contestant appeared on more than one season.
Photo
Team
Relationship
1
2
3
4
5
6
7
8
9
10
11
12
13
Roadblocks
Patrícia & Sane
Friends
3rd
4th
2nd
5th
4th
3rd
5th
3rd
4th
3rd
1st
2nd
1st
Patrícia 6, Sane 6
Jonatas & Rafael
Friends
2nd
1st
9th
1st
2nd
2nd
4th
2ndƒ
3rd
4th
3rd
3rd
2nd
Jonatas 5, Rafael 6
Perri & Maristela
Married
1st
3rd
4th
4th
3rd
1st
1st
4th
1st
2nd
2nd
1st
3rd
Perri 6, Maristela 5
Jorge & Silvia
Married
4th
7th
5th
7th
5th
5th
3rd
5th
2nd
1stƒ
4th
4th
Eliminated 8th
Jorge 6, Sílvia 4
Débora & Daniela
Sisters
8th
5th
7th
3rd
7th
4th
2nd
1st
5th
5th
Eliminated 7th
Débora 6, Daniela 3
Andréa & Luciana
Sisters
9th
8th
6th
6th
1st
7th
6th
6th
Eliminated 6th
Andréa 5, Luciana 2
Milene & Jaqueline
Friends
5th
2nd
8th
8th
6th
6th
7th
Eliminated 5th
Milene 4, Jaqueline 2
Mari Lice & Tâmisa
Mother/Daughter
6th
6th
3rd
2nd
8th
Eliminated 4th
Mari Lice 2, Tâmisa 2
Carlos & Eduardo
Father/Son
7th
9th
1stƒ
9th
Eliminated 3rd
Carlos 2, Eduardo 1
Marcelo & Narciso
Life Partners
10th
10th
Eliminated 2nd
Marcelo 1, Narciso 1
Sandro & Daniel
Cousins
11th
Eliminated 1st
Sandro 0, Daniel 1

Red = team eliminated.
Orange = non-elimination leg.
Coral = leg number had no mandatory rest period at the Pit Stop and ordered to continue racing.
Purple = team used the Express Pass.
Blue = team who came in last on an elimination leg was saved by the team with the Salvage Pass.
Fuchsia = team used the Salvage Pass to gain a time advantage.
Green ƒ = team won the Fast Forward.
Yellow > = team used Yield • < = team received Yield.
Brown » = team used U-Turn • Brown « = team received U-Turn.
Gold ∪ = team penalized for Automatic U-Turn.
Blue H = team penalized with a Hazard.

Memorable Moments
Edit
Franchise
Edit
Most number of female teams, five (tied with The Amazing Race Philippines 1).
Lowest number of male/female teams, two.
The only season to have a team disqualified from the final leg.
First season to not have new countries.
The only season to have a two-way race to the finish line in the final leg.
External link
Edit