Terri & Henry
Talk

0
1,002pages on
this wiki
Terri & Henry
Relationship
Married 13 Years
Teammates
Trinidad "Terri" Reed
Henry Reed


---

Season
Asia 2
Place
6th
Age Average
46
Average Placing
6.38

---
Trinidad "Terri" Reed and Henry Reed are a team who are Married 13 Years on the 2nd season of The Amazing Race Asia.
Age: 44
Hometown: Philippines
Age: 48
Hometown: Philippines
AXN Biography
Edit
When it comes to the discipline, dedication and effort placed in getting things done, nothing prepares you quite like the military and after over 20 years of serving his country, retired United States Navy Senior Chief Petty Officer Henry Reed, together with his wife, Terri, is taking all he knows about traveling around the world and putting them into competing in The Amazing Race Asia. "After 20 years in the military, traveling does not scare me but provides a refreshing adrenaline rush," explains the 48 year old American, who is now residing in the Philippines with his Filipino wife of 13 years, Terri. His intention is to use the race as a backdrop to spend some quality time with his wife while learning about different parts of the world. Of course, the prize money is an added bonus should they win. A fitness fanatic who has been shot off an aircraft carrier (this is something you have to check with him), ridden a bicycle at over 100 kilometers per hour and played his favorite sport of lacrosse in sold out venues, this adrenaline junkie is hoping the race will bring him a new level of excitement that would match, if not surpass his expectations. But don't let the tough guy exterior fool you because he admits to be extremely gullible and trusting and does not like it when people take advantage of it. On the other hand, Mrs. Reed just wants to have some quality time with her husband, who she feels has been neglecting her recently. "I want to have a chance again to be with my husband against the world," says Terri, 44, who is hoping that the travel adventure will rekindle the spark they once shared. And watching them together, it is not hard to see why these two, as Henry puts it, are "borderline dysfunctional". Before anything happens, they talk, and then they argue, then smile, laugh and talk, then argue again. After that, the cycle repeats itself. Their game plan for the race even has something to do with the ability that Terri has, which Henry seems to have been subjected to a lot of over the years. "One of my wife's biggest strengths is the ability to influence people and get them to do what she wants while having them believe they are doing what they want," he says as a matter of fact. "We'll also try and make sure our opponents believe that we are a lot nicer and likable than we really are. Make no mistake, this is a race and we plan to destroy our competitors one by one by any legal means necessary," he promises.
Asia Season 2
Edit
Leg 1: 9th
Leg 2: 9th
Leg 3: 5th
Leg 4: 7th
Leg 5: 3rd
Leg 6: 6th (Non-elimination leg)
Leg 7: 6th (Non-elimination leg)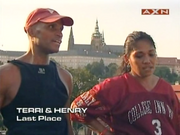 Memorable Moments
Edit
Eliminated because they lost their lead over Paula & Natasha when they had trouble finding a taxi.
Franchise
Edit
Most consecutive last place finishes, 6th Place 3 times in a row (Tied with Kari & Bjørn).
First team to use a Yield on a team who is already ahead of them.
Lowest average placing male/female team who were the 5th team to be eliminated, 6.38
Lowest average placing male/female team who were the 5th team to be eliminated without winning any leg, 6.38
First team to be eliminated in the Czech Republic.
Oldest team, 46.
Oldest male/female team to finish in 6th place, 46.
Oldest male/female team to finish in 6th place without winning leg, 46.
Oldest team, 46.
Last male/female team standing.
External links
Edit