Tara & Wil
Talk

0
1,065pages on
this wiki
Tara & Wil
Relationship
Separated Couple
Teammates
Tara Lynch
Wil Steger


---

Season
2
Place
2nd
Average Age
33.5
Average Placing
2.54

---

---
Tara Lynch and Wil Steger are a team of Separated Couple on the 2nd season of The Amazing Race.
Age: 31
Hometown: Los Angeles, California
Age: 36
Hometown: Los Angeles, California
CBS Biography
Edit
Tara and Wil met five years ago on what Tara calls "a blind date from hell." They travel together frequently, and usually get along quite well, disagreeing mostly on financial issues. According to Wil, the best aspect of traveling with Tara is that they both know what they are doing; the worst aspect is that "Tara has to eat vegetarian."
The pair decided to team up for THE AMAZING RACE because they are business partners. Wil thinks the experience might bring them closer together, but Tara has a slightly different take: "Our relationship is so screwed up, I don't think it will affect it either way."
Leg 1: 1st
Leg 2: 3rd
Leg 3: 2nd
Leg 4: 3rd
Leg 5: 3rd
Leg 6: 5th
Leg 7: 3rd
Leg 8: 4th
Leg 9: 3rd
Leg 10: 2nd
Leg 11: 1st (Fast Forward)
Leg 12: 1st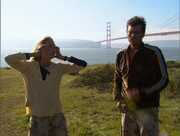 Memorable Moments
Edit
Franchise
Edit
One of 56 teams to never check in last at a pit stop and the finish line in their career.
Oldest team in the Final Three, 33.5
Highest average placing team, 2.54
Most legs won, 3 legs (tied with Chris & Alex and Oswald & Danny).
Highest average placing team in the final three, 2.54
Only team to not check in last at a pit stop and the finish line.
After the race, Wil stated that due to the fact that he and Tara were complete opposites, their divorce would be finalized and they remain friends and business partners.
External links
Edit
Want to play Survivor yourself?

Join our version, Survivor: Wikia - Sardinia!