TK & Rachel
Talk

0
1,002pages on
this wiki
TK & Rachel
Relationship
Newly Dating
Teammates
TK Erwin
Rachel Rosales


---

Season
12
Place
1st
Age Average
22.5
Average Placing
3.18

---
TK Erwin and Rachel Rosales are a Newly Dating team on the 12th season of The Amazing Race.
Age: 22
Hometown: Huntington Beach, California
Age: 23
Hometown: Huntington Beach, California
CBS Biography
Edit
TK & Rachel have only been dating for close to a year. Both of their moms were friends while they were growing up in Huntington Beach, California, yet they had never really spent anytime together until only recently. This fun-loving couple is always laughing and is eager to see if their relationship can stand up to the rigors of the Race.
Rachel owns her own high-style flower shop. She describes herself as bright and ambitious and claims that the biggest difference between she and TK are the lives they've led. He was a collegiate athlete at UC Santa Barbara while she stayed home and bought a business and started working straight out of high school.
TK currently makes his living as a substitute teacher. He describes himself as dedicated, witty and intelligent. TK swam in college and was voted team captain of the swim team. He also held the all-time record in the 200-meter backstroke at UCSB (University of California, Santa Barbara).
This free-spirited Team is looking to share the adventure of a lifetime together and maybe win $ 1 million prize in the process.
Season 12
Edit
Leg 1: 3rd
Leg 2: 6th
Leg 3: 2nd
Leg 4: 7th
Leg 5: 1st
Leg 6: 4th
Leg 7: 4th
Leg 8: 1st
Leg 9: 4th (Non-Elimination)
Leg 10: 2nd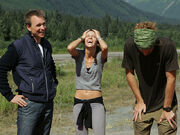 Memorable Moments
Edit
Rachel passed Christina at the final Roadblock, and the couple never looked back.
Franchise
Edit
First winning team to perform a Speed Bump.
Youngest couple in love to win the race, 22.5
Youngest team to win 3 legs in a career, 22.5
Highest finish by a male/female team, 1st Place (tied with Flo & Zach, Chip & Kim, Freddy & Kendra, Uchenna & Joyce, Linz Family, Eric & Danielle, Nick & Starr, Tammy & Victor, Meghan & Cheyne, Ernie & Cindy, Rachel & Dave, Tamara & Matías, Charlie & Rachel, and Lily & Jan).
Highest finish by a team with an age average of over 20, 1st place (tied with Rob & Brennan, Chris & Alex, Flo & Zach, Freddy & Kendra, Linz Family, BJ & Tyler, Tyler & James, Eric & Danielle, Nick & Starr, Meghan & Cheyne, Dan & Jordan, Zabrina & Joe Jer, and Charlie & Rachel).
Rachel is the first Hispanic-American to win the race
Season 12
Edit
External links
Edit