Surprise Eliminations
Talk

0
1,002pages on
this wiki
Surprise Elimination
Type
Penalty
Description
Eliminations at places other than Pit Stops
Introduced
Season 10
Versions Used In
US
A Surprise Elimination occurs when teams are eliminated at places during the race other than the Pit Stop.
Season 10 introduced the first surprise elimination, when the last team to arrive at a checkpoint midway through the first leg was eliminated on the spot. At the end of the leg, there was a normal elimination at the mat, making it the first time two teams were eliminated in the same leg.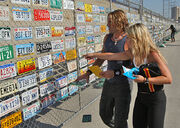 Season 15 used the second surprise elimination, where the last team remaining at the opening task of the Race was eliminated. However at the end of the leg, no one was eliminated at the Pit Stop as it was a non-elimination leg.