Steve & Linda
Talk

0
1,147pages on
this wiki
Steve & Linda
Relationship
Married
Teammates
Steve Cole
Linda Cole


---

Season
14
Place
10th
Average Age
47.5
Average Placing
9.5

---

---
Steve Cole and Linda Cole are a Married team on the 14th season of The Amazing Race.
Age: 43
Hometown: Martinsville, Virginia
Age: 52
Hometown: Martinsville, Virginia
CBS Biography
Edit
This husband and wife team met when Steven went with a date to Linda's house for a party. Linda asked her brother to keep his date occupied while she asked Steven out. They have been together ever since and married for 17 years. They both have children from previous marriages, but treat all of them as their very own.
Linda is nine years older than Steven. She describes herself as smart, hard working and adventurous. Steven loves traveling, making and posting videos online, recycling scrap metal and fishing. He is a Virginia Master Angler. He describes himself as a perfectionist and creative. His one setback is that he suffers from claustrophobia.
Both Linda and Steven are well traveled. The two had a very scary experience traveling through Guatemala where they were robbed of all their money and identification. Luckily they were resourceful enough and found their way back to the states without too much hassle.
Together, they are excited for new experiences that will expand their horizons. They love to compete and are looking forward to sharing this once in a lifetime experience together, while making new friends along the way. Look for the other Teams to completely underestimate these two, but with Linda's analytical mind and Steven's ability to problem solve they could do well.
Season 14
Edit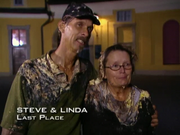 Memorable Moments
Edit
Eliminated when Linda missed the yellow arrow at the Roadblock while hiking down the mountain and went in the wrong direction.
Franchise
Edit
Oldest male/female team to be the 2nd team to be eliminated, 47.5
Season 14
Edit
External links
Edit
Want to play Survivor yourself?

Join our version, Survivor: Wikia - Sardinia!