Sophie & Aurelia
Talk

0
1,002pages on
this wiki
Sophie & Aurelia
Relationship
Ex-Housemates
Teammates
Sophie Teng
Aurelia Chenat


---

Season
Asia 2
Place
8th
Age Average
27
Average Placing
7

---
Sophie Teng and Aurelia Chenat are a team of Ex-Housemates on the 2nd season of The Amazing Race Asia.
Age: 27
Hometown: Hong Kong
Age: 27
Hometown: Hong Kong
AXN Biography
Edit
Both in the prime of their life, Hong Kong residents, Sophie and Aurelia are attractive, outgoing, and personable but any other noticeable similarities stop here as both cannot be as different as night and day when it comes to their personalities. A former writer in an advertising agency who had to quit her job to take part in the race, Sophie is the more serious and reflective of the two. She hopes her participation in the race will one day lead to her lifelong dream of becoming a TV presenter and travel writer. On the opposite side of the spectrum is Aurelia, a bubbly and chatty model who loves meeting interesting people of other cultures and places, has jet-set around the world and touched the land of 44 different countries. Ever the independent woman, Aurelia left Provence, France when she was barely 18, and moved to various cities like Paris, Tokyo, Singapore, and now Hong Kong. Both girls met two years ago through a mutual friend when Aurelia was looking for a place to stay. Sophie offered to let her crash in her apartment for a few days that turned into several months and the rest is history. While things started off well, it soon became obvious that each had their own dominant personality that clashed when put in the same room. The things they have in common are enjoyable ones like shopping, spa treatments and partying, but it ends there. Calling what they have a love/hate relationship, Aurelia notes that Sophie is "the neatest person I ever met", while admitting that she is the messiest person Sophie knows. Yet, when both found out that each was interested in participating in The Amazing Race Asia, it was decided that competing together would make more sense than competing against each other. Aurelia also admits that this race might also provide her with some maturity, which her teammate is more than willing to point out she lacks. But together, the girls have seen all previous seasons of The Amazing Race and have compiled together a list of rules that makes up their game plan. Rule 1: Use the people around you, especially the locals. Don't be afraid to ask them for information or take them with you. Rule 2: At the airport, never ask for the first plane to depart but for the first one to land. Rule 3: Do not hesitate to pay a taxi to lead the way. Spare money is useless when you're last. And last of all, use their God given gifts. Says Aurelia, "Smiling always works better than getting angry, especially when you're a woman." Let's wait and see!
Asia Season 2
Edit
Leg 1: 5th
Leg 2: 7th
Leg 3: 8th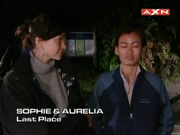 Memorable Moments
Edit
Eliminated because they were too far behind since the start of the leg.
Franchise
Edit
First team to be eliminated outside the pitstop.
First female team to be eliminated.
External links
Edit