Schroeder Family
Team Profile
Members
Mark Schroeder
Char Schroeder
Stassi Schroeder
Hunter Schroeder
Age
40 (Mark)
39 (Char)
17 (Stassi)
15 (Hunter)
Hometown
New Orleans, Louisiana
Relation
Dad, stepmom and kids
Occupation
Architect (Mark)
Public relations director (Char)
High school student (Stassi)
Middle school graduate (Hunter)

---

Legs Competed
4
Placement
7th
Gallery
Link
Mark Schroeder, Char Schroeder, Stassi Schroeder, and Hunter Schroeder are a team of Dad, Stepmom and Kids on the family edition of The Amazing Race.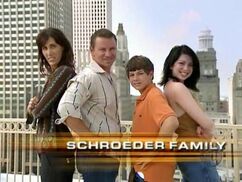 Mark and Char Schroeder are from New Orleans, Louisiana. Mark's two children from a previous marriage, Stassi, 16, and Hunter, 14, round out the well-traveled team.
Mark, 40, is an architect. He enjoys painting, working out and is admittedly arrogant and confident. Mark hopes the Race will teach his family how to rely on each other.
Char, 39, works as a public relations director. Focused and friendly, Char is the family mediator and is forced to step in to resolve family conflicts from time to time.
Stassi is the queen of the family. Outgoing and adventurous, she is entering her senior year of high school.
Her younger brother, Hunter, is entering ninth grade this fall. He describes himself as preppy and hyper. Several of Hunter's teammates complain that he can be lazy at times—a trait not commonly found in the Race.
As they embark on the ultimate family vacation, the ultra-competitive Schroeders are ready for any challenges the Race throws their way.
The Amazing Race 8: Family Edition
Edit
Race History
Edit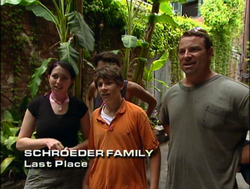 Leg 1: 5th
Leg 2: 4th
Leg 3: 3rd
Leg 4: 7th (Eliminated)

Asked the sheriff for directions to Southern Colonel
The sheriff said it's a mobile home, but the family (sans Stassi) doesn't think so.
As they stopped at the gas station, they looked at a phone book and realized that the sheriff was correct, upsetting Stassi and sending her to tears.
Mark and Stassi bickered over directions causing her to break down.
As they arrived, they were told by the Godlewski sisters to take the 7:40 departure since the Weavers has the 8:00.
Mark insisted to take the 8:00 am departure over Stassi's complaints.
When they took the 8 am departure, Stassi is upset that her family won't listen to her.
Post-Race
Edit
Stassi appeared on the reality TV series Queen Bees in 2008.
Stassi is currently a cast member in the Bravo TV reality series Vanderpump Rules.
External links
Edit
References
Edit
Hey! Want to play Survivor yourself?

Join our version, 703 Survivor!