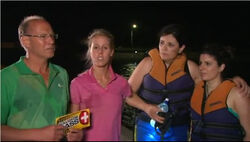 The
Salvage Pass
, introduced in
The Amazing Race Australia 2
, is awarded to the winners of the first leg, replacing the
Express Pass
. The team who receives the pass may choose to give themselves a 1 hour headstart (30 minutes in the
Filipino version
) for the next leg of the race or save the last team who arrives at the pit stop from elimination.
In The Amazing Race China 3, the Return Ticket was introduced, which served a similar function, with the exception that it was not required to be used on the same leg it was received on.
Appearances
Trivia
References
Ad blocker interference detected!
Wikia is a free-to-use site that makes money from advertising. We have a modified experience for viewers using ad blockers

Wikia is not accessible if you've made further modifications. Remove the custom ad blocker rule(s) and the page will load as expected.