Ryot & Liberty
Relationship
Brother & Sister
Teammates
Ryot Wilson
Liberty Wilson


---

Season
Australia 1
Place
11th
Average Age
25
Average Placing
7

---

---
Ryot Wilson and Liberty Wilson are a Brother & Sister team of on the 1st season of The Amazing Race Australia.
Biography
Edit
Siblings Liberty and Ryot don't spend a lot of time together outside of family gatherings, so how will they fare when it's just the two of them?
Outgoing brother and sister team Ryot and Liberty admit they're a product of their upbringing.
Liberty, 27, says, "There's four kids in our family and when we were growing up our mum and dad always encouraged plenty of debate, opinions and laughs around the dinner table. We're all outspoken."
"I'd say everyone in our family is pretty driven and intelligent. We all did well at school," Liberty says.
Ryot, 23, adds, "When she says 'our family', I'm excluded from that. I'm definitely the black sheep." Ryot gave up a promising finance career to become a professional poker player and admits the decision didn't go down well with his family.
"Yes it's risky, but I'm a risk taker. I used to be a broker. I've been playing poker for four years as a hobby and then I started taking it really seriously. When I got more experience and more confidence, I quit my job because I can make more money playing online poker. In a single day, I play up to 300 tournaments."
Liberty spends her days at her "dream job", working in marketing for an airline. While she doesn't share the same level of cunning as her brother, she does display a competitive side when it comes to one thing – breeding show dogs.
"I'm the fifth generation in my family to breed beagles, but I'm the only one of my siblings who has an interest in it. I have dogs in five countries - Australia, New Zealand, The Philippines, Germany and Denmark."
"And yes that world is sometimes like what you see in Best In Show. Actually, that competitiveness has probably helped prepare me for the race."
Ryot too believes he's made of the right stuff to win the race. "I do better under stressful situations. In new situations, adrenaline kicks in and I can focus much better. But I'll just have to try harder not to be so arrogant and stubborn."
Liberty says her biggest obstacle on the race could be her inability to drive a manual car. "But ultimately this is a great opportunity for Ryot and I to have an incredible experience. I am looking forward to this being our time together, the special thing we'll look back on later in life and say, 'We did it!'."
Australia Season 1
Edit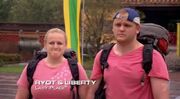 Memorable Moments
Edit
Eliminated because they swticthed tasks at the Detour and Ryot struggled with the order of coins at the Roadblock.
Franchise
Edit
First team that was the first one out in their version to be not eliminated on the 1st leg of the race.
Australia
Edit
Highest average placing team to finish in 11th, 7.
First team ever to be eliminated.
First team to be eliminated in Asia.
First team to be eliminated in Vietnam.
First male/female team to be eliminated.
First team of siblings to be eliminated.
Ryot & Liberty are the siblings of Australian actress and comedian Rebel Wilson.
External links
Edit
Want to play Survivor yourself?

Join our version, Survivor: Wikia - Sardinia!

]]
Hey! Want to play Survivor yourself?

Join our version, 703 Survivor!