Ron & Kelly
Talk

0
1,002pages on
this wiki
Ron & Kelly
Relationship
Former POW/Pageant Queen
Teammates
Ron Young
Kelly McCorkle


---

Season
7
Place
3rd
Age Average
27
Average Placing
3.08

---
Ron Young and Kelly McCorkle are a team of Former POW/Pageant Queen on the 7th season of The Amazing Race.
Age: 28
Hometown: Villa Rica, Georgia
Was shot down in the war of Iraq and was taken to prison for 23 days before the marines rescued him.
Age: 26
Hometown: Greenville, South Carolina
Miss South Carolina 2002.
CBS Biography
Edit
Ron & Kelly are a dating Team from Villa Rica, Georgia and Greenville, South Carolina, respectively. Ron is a former Iraq War POW who is currently a student at the University of Georgia and works as a motivational speaker. Kelly was crowned Miss South Carolina in 2002 and works as a Legislative Correspondent. Their primary motivation for participating in the Race is strictly for the adventure.
Ron grew up in Lithia Springs, Georgia. A fan of the movie "Top Gun," Ron became a pilot after joining the Army and started flying Apache helicopters. When Ron's helicopter was shot down in Iraq, he was captured, interrogated, held captive and later rescued by the United States Marines. Following his rescue, Ron returned home and was introduced to the reigning Miss South Carolina. The two have been an item ever since. Ron is very competitive and admits he's a thrill seeker. He currently works as a motivational speaker.
Kelly's determination has always been a part of her life. After growing up with a learning disability, she graduated cum laude from North Greenville College. After being crowned Miss South Carolina, she went on to compete in the Miss America pageant. Kelly describes herself as well-rounded and persistent.
This couple has been on quite a roller coaster ride over the past few years, and they're not showing any signs of slowing down. They're ready for a new adventure.
Leg 1: 10th
Leg 2: 2nd
Leg 3: 4th
Leg 4: 4th
Leg 5: 2nd
Leg 6: 1st
Leg 7: 2nd
Leg 8: (2nd) 2nd
Leg 9: 4th (Non-Elimination)
Leg 10: 2nd (Yielded by Rob & Amber)
Leg 11: 1st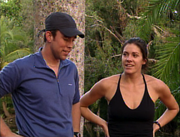 Memorable Moments
Edit
Beat Ryan & Chuck in a footrace to escape the first elimination.
Settled for 3rd when Kelly misspoke causing Ron to drive in the wrong direction.
Franchise
Edit
Youngest male/female team, 27.
Youngest team in the Final Three, 27.
External links
Edit