Rob & Kimberly
Talk

0
1,147pages on
this wiki
Rob & Kimberly
Relationship
Dating
Teammates
Rob Diaz
Kimberly Chabolla


---

Season
10
Place
2nd
Average Age
29.5
Average Placing
3

---

---
Rob Diaz and Kimberly Chabolla are a Dating team on the 10th season of The Amazing Race.
Age: 31
Hometown: Los Angeles, California
Age: 28
Hometown: Los Angeles, California
CBS Biography
Edit
Rob & Kimberly met while bartending in Los Angeles, California. The young couple has been dating for two years and recently moved in together. Their primary reason for running the Race is to see if their relationship can withstand the intensity and pressure of traveling around the world at such a frantic pace.
Rob is currently enrolled in a real estate course in Los Angeles. He describes himself as goofy and compassionate and claims that the biggest difference between him and Kimberly is that she is more structured while he tends to be a "fly by the seat of your pants" type of guy.
Kimberly works in public relations in Los Angeles. She enjoys snowboarding, working out and wake boarding. A self-proclaimed goofball, Kimberly also sees herself as being a neat freak and a little clumsy. Clumsiness aside, she will undoubtedly be a physical threat to the other Teams and won't be afraid to do whatever it takes to win the one million dollar prize. Both Rob & Kimberly love to compete and are ready for the adventure of a lifetime.
Season 10
Edit
Leg 1: 5th
Leg 2: 6th
Leg 3: 3rd
Leg 4: 1st
Leg 5: 3rd
Leg 6: 3rd
Leg 7: 3rd
Leg 8: 3rd (Fast Forward w/ Tyler & James)
Leg 9: (4th) 3rd
Leg 10: 3rd
Leg 11: 1st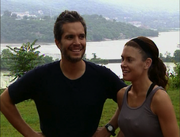 Memorable Moments
Edit
Despite having a meltdown at the tomato throwing detour in the eleventh leg, they managed pull through and come in 1st, entering the final three.
Settled for 2nd because their cab driver does not have the E-Z Pass
Franchise
Edit
One of 56 teams to never check in last at a pit stop and the finish line in their career.
Most consecutive legs in the same position (3rd place in 6 consecutive legs).
Season 10
Edit
Highest average placing male/female team, 3.
Most legs won by a male/female team, 2 legs (tied with Peter & Sarah).
Last male/female team standing.
After the race Rob and Kimberly broke up.
Rob is now married to Leigh Lustig
External links
Edit
Want to play Survivor yourself?

Join our version, Survivor: Wikia - Sardinia!