Ray & Yolanda
Team Profile
Members
Ray Whitty
Yolanda Brown-Moore
Age
27
Hometown
Chicago, Illinois
Relation
Dating
Occupation
Attorney (Ray)
Science Teacher (Yolanda)

---

Legs Competed
12
Placement
3rd
Gallery
Link
Ray Whitty and Yolanda Brown-Moore are a Dating team on the 9th season of The Amazing Race.
Ray & Yolanda have been dating for five years. An accomplished athlete, Yolanda ran track with Ray's cousin at the University of Florida. One day while visiting his cousin at the track, Ray was introduced to Yolanda, but it wasn't until later that the two were reacquainted and exchanged phone numbers.
Natives of Florida, Ray & Yolanda now reside in Chicago, Illinois. Yolanda grew up in Gainesville, Florida and was a math and science teacher in Miami before she recently moved in with Ray, who is originally from Jacksonville. After receiving his law degree from the University of Miami and practicing law in South Florida, Ray accepted a position as an attorney in Chicago.
While Ray is said to be the more disciplined of the two, both describe themselves as opinionated and stubborn. Yolanda admits that she has a bit of trouble finishing what she's started and Ray claims that she often runs late. Nevertheless, Yolanda & Ray enjoy working out together and are looking forward to the adventure of the Race and the thrill of competition.
The Amazing Race 9
Edit
Race History
Edit
Leg 1: 7th
Leg 2: 5th
Leg 3: (3rd) 7th
Leg 4: 7th
Leg 5: 6th
Leg 6: 3rd (15-minute penalty)
Leg 7: 3rd
Leg 8: 4th
Leg 9: 1st
Leg 10: 3rd
Leg 11: 3rd (Non-Elimination)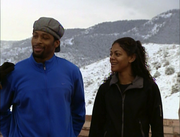 Post-Race
Edit
At The Early Show, Ray proposed to Yolanda who accepted.
They would eventually get married.
Ray & Yolanda were the last team to arrive last in the penultimate leg to not be eliminated in the original American version of the show, until Amy & Maya.
They are also the last team to place 3rd and be the last team to arrive at the end of a leg that was not the final leg.
External links
Edit
Hey! Want to play Survivor yourself?

Join our version, 703 Survivor!