Peggy & Claire
Talk

0
1,002pages on
this wiki
Peggy & Claire
Relationship
Grandmothers
Teammates
Peggy Kuhn
Claire Jinks


---

Season
2
Place
9th
Age Average
64
Average Placing
9

---
Peggy Kuhn and Claire Jinks are a team of Grandmothers on the 2nd season of The Amazing Race.
Age: 63
Hometown: Truckee, California
Age: 65
Hometown: Los Gatos, California
CBS Biography
Edit
Peggy and Claire met about four years ago, while walking their dogs at a lake in the sierras. Their dogs quickly struck up a friendship, and so did Peggy and Claire. Last year the two spent ten days together in Santa Monica, California, and enjoyed the experience very much. The greatest difficulty was the fact that Peggy is an early riser, while Claire prefers to sleep in. When Peggy saw the AMAZING RACE application on the CBS website she called Claire, and both agreed that it would be fun to compete.
When considering how their experience in THE AMAZING RACE might change their relationship, Peggy observes, "Between the two of us, we're a hundred and twenty-something years old. It would take something more earth shattering than a TV show to change our relationship. There are some advantages to growing old! You don't sweat the small stuff."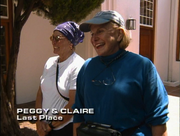 Memorable Moments
Edit
Eliminated when they took a roundabout flight from New York to London to Cape Town, and when their flight from New York landed a few minutes late, they missed their connecting flight in London.
Franchise
Edit
Oldest female team ever, 64.
Oldest team to finish in 9th place, 64.
Oldest team to finish in 9th place without winning any leg, 64.
Oldest team to be the 3rd team to be eliminated, 64.
Oldest team of friends, 64.
Largest time gap between them and the first team checking in at the pit stop (24 hours).
Oldest team, 64.
Oldest team who didn't earn a spot in the final three, 64.
External links
Edit