Oswald & Danny
Comments

0
1,153pages on
this wiki
Oswald & Danny
Team Profile
Members
Oswald Mendez
Danny Jimenez
Age
31, 36 (Oswald)
36, 41 (Danny)
Hometown
Miami, FL (Season 2; Danny - All-Stars)
New York City, NY (Oswald - All-Stars)
Relation
Best friends
Occupation
Ad agency consultant (Oswald)
Program manager (Danny)

---

Legs Competed
11
Placement
4th

---

Legs Competed
12
Placement
4th
Gallery
Link
Oswald Mendez and Danny Jimenez are a team of Best Friends on the 2nd season of The Amazing Race, and the all-star season of The Amazing Race.
Oswald and Danny met in 1994 and gradually became friends. When Danny's life partner died, Oswald was there to help, and in Danny's words, the two "became partners in crime." Oswald and Danny have traveled extensively together, mostly to Los Angeles and New York, but also to Paris, Milan, and Berlin. On their travels, they "had amazing new experiences and most of all, lots of fun."
The pair decided to team up for THE AMAZING RACE because they expect the experience to bring them closer together. "Only someone like Oswald could be strong enough to endure the kind of life-changing experiences that a project like this may bring," said Danny. Oswald added, "We balance each other perfectly."
All-Stars (2007)
Edit
These best friends from Season 2 had a falling out several years ago, but have since mended their relationship and claim to be better friends now than they've ever been during their 12 years of friendship.
Even though these two don't live in the same city, they still see each other quite frequently and are ready to take another adventure of a lifetime together.
Oswald describes himself as compassionate and resourceful while Danny can be described as an adventurous person who tries to keep things real and exciting at all times. Oswald claims to be the more focused of the two a trait that will surely be tested while racing against the all-stars. Their personalities are infectious and they truly enjoy their lives. Both have traveled the globe, speak several foreign languages between the two, and feel right at home on foreign soil.
These two fun-loving friends are eager for the experience that the Race has to offer and are looking to be the team to beat.
The Amazing Race 2
Edit
Race History
Edit
Leg 1: 8th
Leg 2: 7th
Leg 3: 1st
Leg 4: 1st (Fast Forward)
Leg 5: 6th
Leg 6: 4th
Leg 7: 4th
Leg 8: 1st
Leg 9: 4th
Leg 10: 4th (Non-Elimination)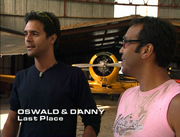 The Amazing Race: All-Stars (2007)
Edit
Race History
Edit
Leg 1: 2nd
Leg 2: 2nd
Leg 3: 5th
Leg 4: 1st
Leg 5: 4th
Leg 6: 2nd
Leg 7: 2nd
Leg 8: 1st (Fast Forward w/ Uchenna & Joyce)
Leg 9: 4th
Leg 10: 1st (Fast Forward)
Leg 11: 4th (Yielded Eric & Danielle; Non-Elimination)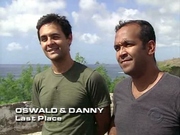 Post-Race
Edit
First team to be eliminated in New Zealand.
First team to be eliminated in Guam.
First team to be eliminated in a US Territory.
Oswald & Danny have used the Fast Forward the most times, 3.
They were the first team to used the Fast Forward at Intersection and came 1st in the same leg. (with Uchenna & Joyce)
They were the first team to finish at the same position twice, 4th.
Most legs traveled by a male team raced in two season, 23 legs. (tied with Flight Time & Big Easy in season 15 and Unfinished Business)
References
Edit