Nicolas & Donald
Talk

0
1,147pages on
this wiki
Nicolas & Donald
Relationship
Grandson/Grandfather
Teammates
Nicolas Fulks
Donald Jerousek


---

Season
12
Place
3rd
Average Age
45.5
Average Placing
4.18

---

---
Nicolas Fulks and Donald Jerousek are a Grandson/Grandfather team on the 12th season of The Amazing Race.
Age: 23
Hometown: Chicago, Illinois
Age: 68
Hometown: Elkhorn, Wisconsin
CBS Biography
Edit
Nicolas started his aviation career at the age of 17 at the University of Illinois and currently works as an airline pilot based out of San Juan. He describes himself as reliable, competitive and goofy. He describes his Teammate as rough around the edges and not too excepting of people who go against his advice.
This grandson/grandfather duo believes that Nicolas's traveling expertise will give them a leg up against the other Teams.
Donald has been married for 42 years and has two children. The sparks will undoubtedly fly along the course of the Race as Donald is never shy about telling his grandson what to do. While Nicolas relies on his ability to read maps and quickly navigate computers, Donald relies on old school street smarts and claims to be a jack of all trades.
Regardless of who's calling the shots in the heat of the Race, these two are looking forward to traveling the world together and creating lasting memories.
Season 12
Edit
Leg 1: 5th
Leg 2: 8th
Leg 3: 6th
Leg 4: 4th
Leg 5: 6th
Leg 6: 5th
Leg 7: 1st (Fast Forward)
Leg 8: 2nd
Leg 9: 3rd
Leg 10: 3rd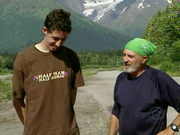 Memorable Moments
Edit
Were the first vehicle to leave the Starting Line, but held up all the other teams' vehicles when they stopped in the driveway to count their money.
Settled for 3rd because Nick misread the Detour clue that involved a bag of tools. Nick's struggles at the Roadblock made the difference.
Franchise
Edit
First grandparent/grandchild team to participate in the race, coincidentally the first (and so far, only) grandparent/grandchild team to reach the final three.
Highest finish for any grandparent/grandchild team, 3rd.
Donald, age 68, the oldest person to finish the race.
First grandparent/grandchild team to win the Fast Forward.
First grandparent/grandchild team to win a leg.
Youngest grandparent/grandchild team, 45.5
Lowest average placing male team who won a leg and came in 3rd, 4.18
Season 12
Edit
Oldest team in the Final Three, 45.5
Lowest average placing team in the final three, 4.18
Only male team.
External links
Edit
Want to play Survivor yourself?

Join our version, Survivor: Wikia - Sardinia!