Mark & Michael
Team Profile
Members
Mark Munoz
Michael Munoz
Age
48 (Mark)
51 (Michael)
Hometown
Los Angeles, CA (Mark)
Maui, Hawaii (Michael)
Relation
Brothers/Stuntmen
Occupation
Stuntman/Jockey (Mark)
Stuntman/Actor (Michael)

---

Legs Competed
9
Placement
5th
Gallery
Link
Mark Munoz and Michael Munoz are a team of Brothers/Stuntmen on the 14th season of The Amazing Race.
This Team of brothers has been competing – against everyone else and each other – their entire life. Standing at 4' 9" these married fathers are ready to prove they have what it takes to win one-million dollars.
Mark makes his living as a stuntman and occasionally works as a jockey. This father of two is looking forward to running the Race with his brother in order to continue building on their relationship. Mark believes that the biggest advantage he and his teammate have over their competition is their fitness level and ability to make split second decisions, a skill they have mastered after years of working in physically and mentally demanding fields. Mark enjoys skiing, biking and golfing and describes himself as short, athletic and creative.
Michael is looking forward to working on communication issues he and his brother have had with each other in the past. Michael, also a father of two, splits his time between Maui and Los Angeles. His favorite hobbies include playing music and surfing. He claims that the biggest difference between the two is that he is the surfer and Mark is the skier. Both have worked extensively in films and television including the feature films Van Helsing, Spider-Man, and Seabiscuit.
They chose similar paths in their lives and, after years of surfing big waves and racing horses around a track, they're eager to run the Race of a lifetime with one another for a shot at a million dollars.[1]
The Amazing Race 14
Edit
Race History
Edit
Leg 1: 3rd
Leg 2: 8th
Leg 3: 5th
Leg 4: 7th
Leg 5: 5th
Leg 6: 6th
Leg 7: 3rd (60-minute penalty (Two 30-minute penalties))
Leg 8: 5th (4-hour penalty (Two 2-hour penalties); Non-Elimination)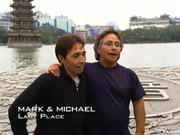 Post-Race
Edit
Mark & Michael are the second team of dwarfs to enter the Race (after Charla).

They are the first male team of dwarfs.

Mark & Michael are the oldest sibling team, 49.5.
Mark & Michael were the first team from Hawaii.
External links
Edit
References
Edit
Hey! Want to play Survivor yourself?

Join our version, 703 Survivor!