Margie & Luke
Talk

0
1,002pages on
this wiki
Margie & Luke
[[Image:
Relationship
Mother/Son
Teammates
Margie Adams
Luke Adams


---

Season
14
Place
3rd
Age Average
36
Average Placing
2.82
Unfinished Business

---

Season
Unfinished Business
Place
8th
Age Average
38
Average Placing
5.33
Margie Adams and Luke Adams are a Mother/Son team on the 14th season of The Amazing Race and the Unfinished Business season of The Amazing Race.
Age: 50 (Season 14), 52 (Unfinished Business)
Hometown: Denver, Colorado
Age: 22 (season 14), 24 (Unfinished Business)
Hometown: Denver, Colorado
Luke is deaf and communicates with American Sign Language.
CBS Biography
Edit
This mother/son team is determined to show the world that nothing can stop them from living out their dreams. They enjoy hiking and traveling together and share a strong bond. Luke has been deaf since birth and Margie became his link to the hearing world. He uses American Sign Language to communicate.
Luke and his mother have developed their own short hand sign language and the ability to almost read each other's mind – an ability that will undoubtedly come in handy on the road. One of the most moving moments they shared was when Luke surprised his mother by delivering a valedictorian speech at his graduation ceremony from Colorado School for the Deaf and Blind.
Margie is looking at this experience as a great opportunity to spend quality time with her son. She describes herself as competitive and a little controlling, but in a good way. She is willing to go anywhere the Race takes her and isn't afraid of adventure. She enjoys hiking and running while Luke also enjoys hiking and biking. Luke describes himself as talkative, determined and adventurous.
Luke hopes to be a role-model for deaf people everywhere while proving that the deaf can do just about anything and to never think otherwise. He believes his knowledge on the topic of anything and everything Race related - he's one of the biggest fans of the show ever - will help his team win.
Margie and Luke are excited to see new places, experience new foods and learn about different cultures – all the while fulfilling a shared dream – to compete and win "The Amazing Race."
Luke is also openly gay. He came out his mother at the age of 19 (three years prior) via text message, and his mother accepted him immediately, much to his surprise. She says "So what? You're still my son!". At first they also told the producers about this, but eventually the producers choose to not to openly informing this, because they want to focus on Luke's appearance as a deaf person.
Season 14
Edit
Leg 1: 1st
Leg 2: 4th
Leg 3: 4th
Leg 4: 4th (U-Turned Amanda & Kris)
Leg 5: 1st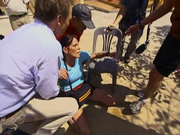 Leg 6: 4th

After checking in, Margie collapses into Luke's arms.
The medical team cools off Margie.

Leg 7: 4th
Leg 8: 1st
Leg 9: 3rd
Leg 10: (2nd) 2nd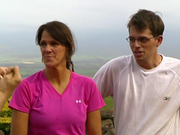 Unfinished Business
Edit
Leg 1: 7th
Leg 2: 5th
Leg 3: 8th
Leg 4: 1st
Leg 5: 3rd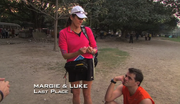 Memorable Moments
Edit
Season 14
Edit
Winning leg 1, host Phil Keoghan, after greeting Margie and Luke, silently signed "You are team number one." (Subtitles were provided.)
During leg 7 in Thailand, Margie fainted at the Pit Stop due to dehydration.
Margie raged at Kisha for laughing at his son.
Fell short of their victory when Luke struggled at the final Roadblock.
Unfinished Business
Edit
Eliminated in Kolkata, India when Luke struggled at a tea tasting Roadblock
Franchise
Edit
Highest average placing parent/child team, 2.82
Highest finish by a mother/son team, 3rd Place.
Most legs won by a parent/child team in a career, 4 legs.
Youngest mother/son team to win a leg, 36.
First team with a deaf player to be eliminated from the race.
Most legs won by a parent/child team in a Season, 3 legs (tied with Ron & Christina and Gary & Mallory).
Luke is the second deaf contestant (after Adrian Yap of Adrian & Collin).
Highest average placing male/female team who came in 3rd, 2.82
Most legs won by a male/female team who came in 3rd, 3 legs.
Luke, the first deaf contestant.
Youngest mother/son team, 36.
2nd Mother/Son team to finish in 8th place (after Susan & Patrick).
Season 14
Edit
Oldest team in the Final Three, 36.
Unfinished Business
Edit
Lowest finish by a team who won a leg, 8th place.
Only Mother/Son team on the race
External links
Edit