Lucy & Emilia
Talk

0
1,002pages on
this wiki
Lucy & Emilia
Relationship
Sisters
Teammates
Lucy Pelosi
Emilia Pelosi


---

Season
Australia 2
Place
5th
Age Average
33
Average Placing
6.9

---
Lucy Pelosi and Emilia Pelosi are a team of Sisters on the 2nd season of The Amazing Race Australia.
Biography
Edit
Larger-than-life Sydney sisters with a strong Italian heritage, Lucy and Emilia do everything together.
They live together at home with their mum, work together as teachers at the same school, and have recently taken up training together at the gym.

"It's more for the perve factor than anything else. We go together as much as we can," says older sister Lucy, 36.
It was she who gave younger sister Emilia, 30, the nickname "Wog Barbie" when they were growing up. "You know, big hair. Loves dressing up. And we're wogs, obviously," Lucy laughs.
Emilia adds, "I guess we do have quite a few of those classic Italian traits. We're passionate, we talk with our hands, we talk a lot, we cry a lot, we laugh a lot!"
"And loudly!" Lucy continues. "All moments with Emilia are memorable. She is hilarious!"
Lucy and Emilia have come into the race after a particularly tough year.
They've been nursing their beloved mother through her battle with cancer – the same disease which claimed their father's life when they were just children. Their mum encouraged them to go on the race.
"She knows this has been our dream forever. I think it's made us more determined. Basically we're still here for fun, but I also think that we're here to do it really properly."
Emilia says, "If our 67-year-old Mum can survive chemo then we can do just about anything. She's our motivation. After what's happened I'm in it to win it."
Australia Season 2
Edit
Leg 1: 11th (Not eliminated, saved by Ross & Tarryn's Salvage Pass)
Leg 2: 10th
Leg 3: 9th (15-minute penalty)
Leg 4: 8th
Leg 5: 6th
Leg 6: 5th
Leg 7: 5th
Leg 8: 5th
Leg 9: 5th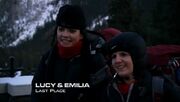 Memorable Moments
Edit
During Leg 4, Lucy and Emilia were arrested for driving into the grounds of a royal palace of Dubai. They were eventually released with a warning.
Franchise
Edit
First team to be saved from elimination by the Salvage Pass.
Lowest average placing team who came in 5th, 6.9.
Lowest average placing team who came in 5th without winning any leg, 6.9.
Australia
Edit
Lowest average placing female team, 6.9.
Were originally picked for Season 1 but dropped out at the last minute due to their mother falling sick.
External links
Edit