Lori & Bolo
Talk

0
1,002pages on
this wiki
Lori & Bolo
Relationship
Married Pro Wrestlers
Teammates
Lori Chestnut Harvey
Bolo Dar'tainian


---

Season
6
Place
5th
Age Average
35.5
Average Placing
4.33

---
Lori Chestnut Harvey and Bolo Dar'tainian are a team of Married Pro Wrestlers on the 6th season of The Amazing Race.
Age: 33
Hometown: Molino, Florida
Age: 38
Hometown: Molino, Florida
Made a cameo appearance on the TV-Movie, The Scorned
CBS Biography
Edit
Lori & Bolo reside in the small country town of Molino, Florida and have been together for eight years. Bolo is a professional wrestler and Lori is a barrel horse racer.
Throughout the years, Lori spent time watching Bolo train for wrestling and decided that she could also do it and jumped in the ring. Although she has worked as a professional wrestler, she is now concentrating on horse racing and hopes to compete in professional rodeos in the near future. Bolo describes his wife as a mix between Jennifer Aniston and professional wrestler Chyna.
Bolo's military service and wrestling career has allowed him to travel abroad, but Lori has never been out of the United States and looks forward leaving her small community and seeing the world. When asked what three adjectives best describe themselves, both Bolo and Lori said the same thing: hard working, honest and great personality.
Although they don't have any children, they consider their eight dogs their kids. They love animals and have rescued many stray dogs. Their primary motivation for going on THE AMAZING RACE is to leave their small town to experience different people and cultures around the world.
Leg 1: 6th
Leg 2: 5th
Leg 3: 7th
Leg 4: 3rd
Leg 5: 7th
Leg 6: 1st (Fast Forward)
Leg 7: 3rd
Leg 8: 2nd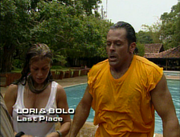 Leg 9: 5th (Eliminated)

Arrived at Lion's Rock in 2nd
Lori performed the Roadblock
Didn't fully read the directions of the clue correctly, when Lori forgot her ticket that she needed to present along the way
Arrived at pit stop last, eliminated.
Memorable Moments
Edit
Eliminated when they didn't read the information that contains the ticket at the Roadblock.
Franchise
Edit
First team to be eliminated in Sri Lanka.
Lowest finish by a team who won a leg, 5th place.
External links
Edit