Linda & Karen
Team Profile
Members
Linda Ruiz
Karen Heins
Age
45 (Linda)
41 (Karen)
Hometown
Palmdale, California
Relation
Bowling moms
Occupation
Tennis teacher (Linda)
Homemaker (Karen)

---

Legs Competed
12
Placement
4th
Gallery
Link
Linda Ruiz and Karen Heins are a team of Bowling Moms on the 5th season of The Amazing Race.
Linda & Karen are self-proclaimed bowling moms from Palmdale, California. They met 12 years ago when they joined the local bowling team and have been doubles partners ever since. A major accomplishment for them was winning the California State Bowling Doubles Tournament in 1999. In addition to bowling, they go on family vacations together to Bass Lake in California.
Karen has been happily married for 21 years and has three children. Linda is celebrating her silver anniversary with her husband this year. She is also a mother of three children and teaches tennis.
Linda & Karen describe themselves as "athletic moms who like to compete at everything." They are excited to compete in THE AMAZING RACE 5 so they can see new places and meet new people.
Leg 1: 3rd
Leg 2: 4th
Leg 3: 6th
Leg 4: 6th
Leg 5: 7th (Non-Elimination)
Leg 6: 6th
Leg 7: 3rd
Leg 8: 4th
Leg 9: 3rd
Leg 10: 2nd
Leg 11: 2nd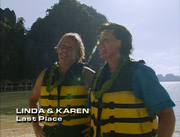 First team to surrender their money as a penalty for arriving last in a non-elimination leg.
First female team to reach the final four.
First female team to finish in 4th place.
First team to be eliminated in the Philippines.
References
Edit
Hey! Want to play Survivor yourself?

Join our version, 703 Survivor!