Kris & Jon
Team Profile
Members
Kris Perkins
Jon Buehler
Age
30 (Kris)
29 (Jon)
Hometown
Long Beach, CA (Kris)
Scottsdale, AZ (Jon)
Relation
Dating long-distance
Occupation
Student/waitress (Kris)
Restaurant partner (Jon)

---

Legs Competed
12
Placement
2nd
Gallery
Link
Kris Perkins and Jon Buehler are a Dating Long-Distance team on the 6th season of The Amazing Race.
One of very few teams to have never bickered or fought during the race, Kris and Jon are widely regarded as the most harmonic team and the best dating team in the show's history and are frequently named among the show's best and most popular contestants.
Kris and Jon are dating long-distance between Long Beach, California and Scottsdale, Arizona, respectively. They met in Scottsdale on Kris's 30th birthday, when Jon was tending bar at the club where she was celebrating. They've been passionately in love ever since, but his career (he is part owner of the club) and her responsibilities at school have kept them in a long-distance relationship.
Kris once worked as a go-go dancer in a nightclub, but now she is a cocktail waitress and studying geography in her senior year at UCLA. She describes herself as "animated and spontaneous." Her hobbies are snowboarding, beach volleyball and golf.
Jon is a "working partner" in a nightclub in Scottsdale, Arizona. He believes he is a "passionate and determined" person, and his favorite hobbies are snowboarding, surfing and water polo. He's a member of the Arizona Masters Water Polo team.
Kris & Jon are hoping that doing the Race together will show them if their relationship can work on a 24/7 basis, and if they should put an end to the long-distance part of their relationship.
The Amazing Race 6
Edit
Race History
Edit
Leg 1: 2nd
Leg 2: 1st
Leg 3: 2nd
Leg 4: 1st
Leg 5: 4th
Leg 6: 2nd
Leg 7: 4th
Leg 8: 3rd
Leg 9: 1st
Leg 10: 3rd
Leg 11: 1st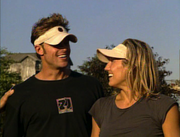 Post-Race
Edit
After the race, Kris and Jon got married and they currently have a son.
References
Edit

Kris's Twitter: @https://twitter.com/krissyincabo
Hey! Want to play Survivor yourself?

Join our version, 703 Survivor!
Hey! Want to play Survivor yourself?

Join our version, 703 Survivor!