Jonathan & Victoria
Comments

0
1,061pages on
this wiki
Jonathan & Victoria
Relationship
Married Entrepreneurs
Teammates
Jonathan Baker
Victoria Fuller


---

Season
6
Place
6th
Average Age
37
Average Placing
3.63

---

---
Jonathan Baker and Victoria Alynette Fuller are a team of Married Entrepreneurs on the sixth season of The Amazing Race.
Age: 42
Hometown: Los Angeles, California
Age: 32
Hometown: Los Angeles, California
CBS Biography
Edit
Jonathan & Victoria were set up on a blind date seven years ago, and have been married for three years. They reside in Los Angeles, where Jonathan is an entrepreneur who owns a spa as well as other business ventures, and Victoria is a model/ pop artist painter. They decided to go on the Race in hopes of getting their relationship back on track after many grueling discussions about starting a family that have taken a toll on their marriage.
Jonathan describes himself as having a "type A" personality, while Victoria says she is resourceful. They hope this combination will help them be victorious on the Race. One of the challenges for them on the Race is going to be trusting each other's instincts and putting their bickering aside.
Victoria recalls that one of the worst moments in their relationship was when they had a fight on a trip to Miami and their entire argument was recorded after her cell phone accidentally dialed her mother's answering machine.
Their primary reason for doing THE AMAZING RACE is to win. The $1 million prize comes in a close second. Although both agree that their biggest fear is not being able to speak the languages, they look forward to experiencing new cultures and people.
Leg 1: 5th
Leg 2: 2nd

 : Jonathan
Accuracy
: Arrived 2nd, beating Gus & Hera in a footrace.

Leg 3: 4th
Leg 4: 2nd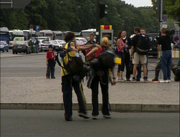 Leg 5: 2nd

Brats
Arrived 1st at the Roadblock.
Soap Box Derby: Jonathan
Jonathan completed the Roadblock in 35 seconds.
Left the Roadblock as soon as Freddy & Kendra arrived.
Lost in a footrace to Freddy & Kendra, when Jonathan ditched his backpack and Victoria picked up fearing it would be stolen. This causes Jonathan to shove Victoria.
: Arrived 2nd.

Leg 6: 3rd
Leg 7: 5th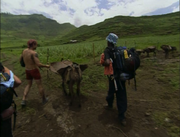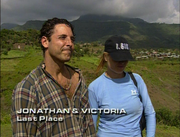 Leg 8: 6th (Eliminated)

Mud the Hut
Victoria cut her finger.
Jonathan wasn't paying attention, causing Kendra to shout at him to help her.
Misread their clue taking only one donkey instead of two.
Realized their mistake when they arrived at the drop-off point.
Returned to the pen to get their second donkey.
 : Victoria
: Arrived last, and were eliminated.
Memorable Moments
Edit
Lost in a footrace to Freddy & Kendra for first place in Leg 5, and Jonathan shoved Victoria.
Eliminated when they misread their clue by taking one donkey instead of two at a time.
Franchise
Edit
Viewed by fans as the most explosive bickering team of all time.
First team to be eliminated from the race in Ethiopia.
First team to be eliminated in leg 8.
Victoria (Along with Meghan) is one of the Females that sucsessfully  perform the Haybale RoadBlock.
Highest average placing team who came in 6th without winning any leg, 3.63
Highest average placing team who were the 6th team to be eliminated without winning any leg, 3.63
Most explosive bickering team.
Highest finish by a team without winning any leg, 6th place.
Highest average placing team without winning any leg, 3.63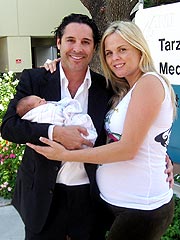 They made a cameo appearance on the TV-Movie, The Scorned.
They appeared on Fear Factor after the race. Were eliminated when Victoria quit the second stunt after getting scared when saw the tied up crocodile hissing and trying to turn around. She later punched Survivor contestant Jonny Fairplay for taunting her. Host Joe Rogan scolds her, but Jonathan retaliates and attacked Joe. The Real World contestant Mike "The Miz" Mizanin broke up the fight.

01:28

Joe Rogan fights on Fear Factor

In Fall 2006, they had their first child, Trease Alynette Baker.
In January 2010, they had divorced.
External links
Edit