Jody & Cory
Comments

0
1,127pages on
this wiki
Jody & Cory
Relationship
Brothers
Teammates
Jody Mitic
Cory Mitic


---

Season
Canada 1
Place
2nd
Average Age
34
Average Placing
3.2

---

---
Jody & Cory are a team of Brothers on the 1st season of The Amazing Race Canada.
Jody Mitic
Edit
Age: 36 (Jan 3, 1977)
Hometown: Ottawa, ON
Connection to Teammate: Brother
Current Occupation: Army Sniper (Ret), Motivational Speaker
Nickname: Jo
Place of Birth: Kitchener, ON
Couldn't live without: My motorcycle
Strengths: Military training, race car driving, long range firearms
Fears/Phobias: Eating weird stuff
Favourite travel destination: New Zealand
Cory Mitic
Edit
Age: 32 (April 14, 1981)
Hometown: Edmonton, AB
Connection to Teammate: Brother
Current Occupation: Labour Relations Officer
Nickname: n/a
Place of Birth: Kitchener, ON
Couldn't live without: Family, friends, and good food
Good luck charm: My good will towards others
Strengths: Conflict resolution, singing, negotiations
Fears/Phobias: Falling, eating strange things
Favourite travel destination: Our old family cottage
Biography
Edit
Jody was a sniper for the Canadian forces, and while on duty in Afghanistan in 2007, he stepped on a land mine and lost both his legs below the knee. After an extraordinary recovery, Jody was running 5 km charity runs in a little over a year on his new prosthetic feet. "It's obviously going to be a challenge," Jody says of his prosthetics, "but we're going to have to overcome that with determination."
Cory was by Jody's side during his recovery and then relocated to Alberta to take a job five years ago. The distance has been hard on the brothers and they're looking forward to re-establishing their strong bond. "We'll rely on each other to get the job done," says Cory. "Our interaction will probably be laced with a lot of bleeps for the viewers at home, and comic relief, also quite a bit of fireworks," says Jody.
Within a few months of returning home, Jody was reunited with one of the medics who evacuated him from Afghanistan. The two are now common law partners of five years and have two beautiful girls together. With the birth of his first daughter, Jody vowed to always strive to be a better person, someone his daughter would look up to and be proud to call Dad.
Motto: "They are the enemy and we shall destroy them."
How will they plan to win The Race: Focus, hard work, calculated risk.
Number one roadblock as team: "Being patient and bringing the intensity down a little bit from red line."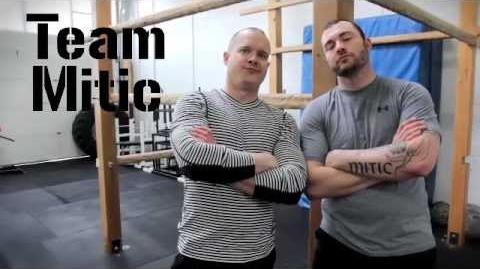 Memorable Moments
Edit
Hastily wrote their names next to the Flight #3 instead of Flight #2 on the sign up sheet.
Nearly losing a footrace to Kristen & Darren on the fourth leg.
Tying for 2nd place with Holly & Brett in a photo-finish on the sixth leg.
Jody telling bypassers the story of how his legs were lost to get $75 instead of entertaining them.
Out-running Vanessa & Celina for 2nd place overall.
Winning 3 straight legs going into the finale, but blowing it over the final roadblock
Canada Season 1
Edit
Leg 1: 7th
Leg 2: 3rd
Leg 3: 5th
Leg 4: 6th
Leg 5: 4th
Leg 6: 2nd (Tied with Holly & Brett)
Leg 7: 1st
Leg 8: 1st
Leg 9: 1st
Leg 10: 2nd
Franchise
Edit
Jody, the first amputee to make the finale. (followed by Bethany of Adam & Bethany)
First team to win a leg and make the final three.

Also the first team to be the only team in the finale, that has won the leg, but to not win the race.

Jody, the first amputee to compete.
First team of brothers.
First team of siblings to win a leg.
First team to tie for a place. (with Holly & Brett)
In October 2014, Jody ran for a seat on Ottawa city council. He was elected.
External links
Edit
Want to play Survivor yourself?

Join our version, Survivor: Wikia - Sardinia!