James & Sarah
Talk

0
1,002pages on
this wiki
James & Sarah
Relationship
Dating
Teammates
James Kingsbury
Sarah Roza


---

Season
Australia 2
Place
6th
Age Average
27.5
Average Placing
5.44

---
James Kingsbury and Sarah Roza are a Dating team on the 2nd season of The Amazing Race Australia.
Biography
Edit
The 9 year age difference between James, 23, and Sarah, 32, is something their friends and family sometimes find hard to overlook.
"A lot of people see it as a kind of cougar and toy boy type of thing," says divorcee Sarah. "But let them think what they want to think."
This volatile Melbourne couple started as friends and freely admit their romantic relationship is often on-again/off-again, or as Sarah says "a bit of a car crash".
"It's kind of like we can't live with each other – we tried that and it didn't work. But we can't live without each other either," says bar manager James.
"We can't really stand each other's company for more than two hours. She talks all the time. I've developed selective hearing. If it was an Olympic event I'd win gold."
Sarah's work as a laser clinician and beauty salon owner means she likes to maintain a highly-polished appearance, and isn't averse to the odd bit of cosmetic enhancement.
"Maintaining my look won't be a problem on the race because most of my makeup is tattooed on."
Sarah might also raise some eyebrows with her race attire, which consists largely of skirts and heels.
"I don't wear shorts and I can't wear flat shoes because it makes my calves hurt. I have to wear heels. So I went to a bunch of shoe places to see if they could make me a hybrid heel runner. I call it a "hunner". I went through about 10 versions before we got it right. They're my secret weapon."
"I know people will look at the hair and makeup and clothes and think I'm up myself but I don't care," she says.
Sarah describes herself as a "pushy, loud and persuasive person" who somehow always gets what she wants.
And while Sarah's race preparation involved testing her makeup in the sauna and finding the right hair gel for James to withstand the grueling conditions they are expecting, at least James hit the gym to try to improve his fitness levels.
"We might fail all the challenges but at least we'll try to look good while we're doing it," laughs James.
Australia Season 2
Edit
Leg 1: 3rd
Leg 2: 9th
Leg 3: 8th
Leg 4: 1st
Leg 5: 7th (4-hour penalty)
Leg 6: 7th
Leg 7: 4th
Leg 8: 4th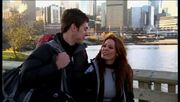 Memorable Moments
Edit
Sarah went on the race with her "Hybrid Heels Runners" aka "Hunners."
Franchise
Edit
First team to be eliminated in Canada.
Australia
Edit
External links
Edit