The Intersection requires each team to pair up with one other team and perform all tasks and make decisions together until further notice.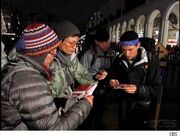 The Intersection was introduced in Season 10. Should there be no other teams present when a given team arrives at the Intersection route marker, they must wait there until another team arrives, though they do not have to partner with that team and can opt to wait for another team instead. Teams are free to choose their partner team if multiple teams are present. Intersected teams were given a usual Detour choice selection.
The second season of the Latin American version included an intersection, but was drastically different from the American version. Instead of two teams working together, two teams must compete against each other to obtain their next clue. Its third and fifth season aired a normal intersection during leg 8.
Fast Forward Option
In two occasions that it has been present on The Amazing Race (US), it has also included a Fast Forward, which is allowed to be claimed by one full group of two teams working together, regardless if either team has already claimed their Fast Forward; furthermore, teams that claim a Fast Forward during an Intersection are free to claim a non-Intersected Fast Forward if one is available after that point. Season 16 did not have a Fast Forward with the Intersection.
Clues & Other Route Markers

·

·

·
·

·
·

·

·
·


Others: Handicap · Date Night · Switchback