Hayden & Aaron
Team Profile
Members
Hayden Kristianson
Aaron Crumbaugh
Birth Dates
March 8, 1979 (Hayden)

March 14, 1979 (Aaron)

Age
25
Hometown
Los Angeles, California
Relation
Dating
Occupation
Models/Actors

---

Legs Competed
11
Placement
4th
Gallery
Link
Hayden Kristianson and Aaron Crumbaugh are a team of Dating Actors on the 6th season of The Amazing Race.
Hayden & Aaron live together in Los Angeles, California. About eight months ago, they saw each other for the first time at a Mexican restaurant. They describe this encounter as fate and love at first sight. Aaron chased Hayden down in the parking lot in hopes of not leaving without asking for a date. Their first date was the next day, and they have been inseparable ever since.
Although they have known each other for only a few months, they feel like they are soulmates and share a lot in common, such as competitiveness, athleticism, sensitivity and, most importantly, closeness with their respective families. However, their personalities differ, as Hayden is more direct and loud while Aaron is more laid back.
They both come from athletic backgrounds. Hayden received a track scholarship to the University of New Mexico, and Aaron was All-American for volleyball at Michigan State University. Their natural ambition and competitiveness is not only their primary reason for going on the Race, it is one of the reasons they think that they are going to win.
Hayden & Aaron are both models and are trying to pursue acting careers in Los Angeles. They feel that THE AMAZING RACE will bring them closer together as a couple and maybe help take their relationship to the next level.
The Amazing Race 6
Edit
Race History
Edit
Leg 1: 1st
Leg 2: 4th
Leg 3: 1st
Leg 4: 4th
Leg 5: 3rd
Leg 6: 4th
Leg 7: 6th (Non-Elimination)
Leg 8: 1st
Leg 9: 2nd
Leg 10: 1st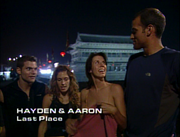 Leg 11: 4th (4-hour penalty; Eliminated)
Post-Race
Edit
Aaron proposed to Hayden after their elimination and she accepts. They got married on April 2007, and currently have two children, Kaiya Rachel and Cash. Kaiya survived from a birth defect.
Aaron is now a chef in Wagyu Wagon. He competed in Cutthroat Kitchen and finished 2nd.
References
Edit
Hey! Want to play Survivor yourself?

Join our version, 703 Survivor!