Gaghan Family
Team Profile
Members
Bill Gaghan
Tammy Gaghan
Billy Gaghan
Carissa Gaghan
Age
40 (Bill)
42 (Tammy)
12 (Billy)
9 (Carissa)
Hometown
Glastonbury, Connecticut
Relation
Dad, Mom and Kids
Occupation
Jet-engine sales (Bill)
Subsitute teacher (Tammy)
7th grade student (Billy)
4th grade student (Carissa)

---

Legs Competed
6
Placement
6th
Gallery
Link
Bill Gaghan, Tammy Gaghan, Billy Gaghan, and Carissa Gaghan are a team of Dad, Mom and Kids on the family edition of The Amazing Race.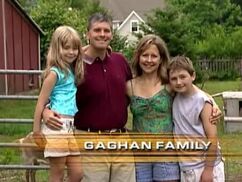 The Gaghan family, from Glastonbury, Connecticut consists of Bill, 40, Tammy, 42 and their children, Billy, 12 and Carissa, 9.
Bill works in jet-engine sales and admits his biggest pet peeve about himself is his lack of patience. Bill is hoping the Race will show his family the importance of working together as a team and the benefits of never giving up.
Tammy is a substitute teacher for her local school district. Having lived in Korea for over three years, Tammy and Bill have traveled extensively. Both compete in marathons across the country and are planning to run one in each state.
Billy is entering seventh grade and describes himself as outgoing and adventurous. His mother says he's currently going through typical pre-teen mood swings and hopes that this won't interfere with his ability to focus on the Race. Billy's favorite activities are football and running. He intends to show his dad that he has what it takes to compete in the Race.
Carissa, who will be in the fourth grade, is playful and silly. While she is one of the younger Racers, her dad feels her keen eyes and fighting spirit will make up for her small size. She enjoys running with her dog, Blaze, and playing soccer. Carissa wants to show her parents that she is a tough competitor ready to take on the adults in the race.
The Gaghan family has traveled around the world and are hoping those experiences have prepared them for this competition.
The Amazing Race 8: Family Edition
Edit
Race History
Edit
Leg 1: 2nd
Leg 2: 7th

Went to the Lincoln Memorial Reflecting Pool.
Wandered aimlessly for two hours.
Met up with the Rogers Family who told them to read their clue.
Realized that the cluebox was at the reflecting pool at the U.S. Capitol, not the Lincoln Memorial.

Leg 3: 7th
Leg 4: 6th
Leg 5: 5th

Failed to get the Fast Forward.
Leg 6: 6th (Eliminated)

Tammy performed the Roadblock.
Tammy struggled to find the red coffee bean.
Post-Race
Edit
Billy and Carissa would later write intros for the My Ox is Broken - an anthology about racers' experience in the race, the only racers in season 8 to do so.
The Gaghan Family was the first team to be eliminated outsided of the US on the Family edition.
First Team Eliminated in Costa Rica
References
Edit
Hey! Want to play Survivor yourself?

Join our version, 703 Survivor!