Fran & Barry
Team Profile
Members
Fran Lazarus
Barry Lazarus
Age
61 (Fran)
63 (Barry)
Hometown
Silverthorn, Colorado
Relation
Married 40 years
Occupation
Retired Accountant (Fran)
Retired Physician (Barry)

---

Legs Competed
8
Placement
5th
Gallery
Link
Fran Lazarus and Barry Lazarus are a team who are Married 40 Years on the 9th season of The Amazing Race.
Fran & Barry have known each other for 45 years and have been married for over 40. The proud parents of two children, this adventure-loving couple makes their home in Summit County, Colorado. Although they travel a lot, the word "vacation" is not a frequently used term in their home. They prefer to refer to their trips around the world as "adventure travel."
Fran, who is 61 years old, is a retired accountant who describes herself as having a positive outlook on life. Fran enjoys skiing, biking, and hiking and has climbed all of Colorado's 54 14ers, which are the Colorado mountain peaks that exceed 14,000 feet. Fran admits that she's running THE AMAZING RACE to show that "old people" can compete just as well as most 25 year olds.
Barry, who is 63 years old, thrives on challenging himself and loves to compete. A retired urologist and former battalion surgeon with the 173rd Airborne Brigade in Vietnam, Barry describes himself as outgoing and dependable. His biggest disappointment with regards to Fran was that she refused to bungee jump from a bridge in New Zealand. Although he does point out that she made good by agreeing to skydive.
Having traveled to more than 45 countries together, these high school sweethearts are hoping their previous traveling experience will give them an advantage over the other Teams.
The Amazing Race 9
Edit
Race History
Edit
Leg 1: 8th
Leg 2: 9th
Leg 3: (5th) 4th
Leg 4: 4th
Leg 5: 4th
Leg 6: 4th
Leg 7: 1st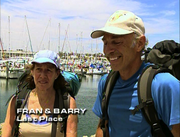 Post-Race
Edit
At an average age of 62 years, Fran & Barry are the oldest team to have won a leg.
Fran & Barry were the first grandparent team to win a leg.
References
Edit
Hey! Want to play Survivor yourself?

Join our version, 703 Survivor!