Express Pass
Talk

0
1,131pages on
this wiki
Express Pass
Type
Reward
Description
Allows a team to skip a task and receive the next clue
Introduced
Season 17
Versions Used In
US
Australia
Latinoamérica
Norway
China Rush
Vietnam
Philippines
Canada
Introduced in Season 17, the Express Pass allows a team to skip any task of their choosing without penalty and immediately receive the next clue. The pass can be used up through the eighth leg. The pass is awarded to the team who arrives at the Pit Stop first on the first leg (with some exceptions) of the race. If one team uses an Express Pass and that team is U-Turned, the U-Turn will have no effect on that team.
Starting from Season 22, the award for placing first in the first leg was two Express Passes (one for the team to use for themselves and one to give away before the fourth leg).
Uses of the Express Pass
Edit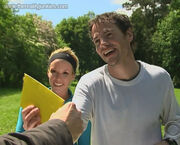 Double Express Pass
Edit
Starting from season 22, the first place team in the first leg was awarded with two Express Passes. One is for them to use while the other has to be given to another team before the end of a designated leg (fourth leg for season 22, fifth leg for season 23 and 24).
Latin America season 5 also offered two express passes.
Want to play Survivor yourself?

Join our version, Survivor: Wikia - Sardinia!