Ethan & Khairie
Talk

0
1,002pages on
this wiki
Ethan & Khairie
Relationship
Friends
Teammates
Ethan Lim
Mohd "Khairie" Khaire


---

Season
Asia 4
Place
5th
Age Average
25.5
Average Placing
3.56

---
Ethan Lim and Mohd "Khairie" Khaire are a team of Friends on the 4th season of The Amazing Race Asia.
Age: 26
Hometown: Malaysia
Occupation: Social worker
Age: 25
Hometown: Malaysia
Occupation: Student
AXN Biography
Edit
The funny duo is as mismatched in appearance as they are in personality, but they reconcile their differences over food, photography and bad jokes. They describe themselves as KL chicken chop connoisseurs who rate the dish according to taste and value. "We like making fun of people but we don't like being made fun of. Our jokes are quite distasteful and only we find it funny. Plus, we are social misfits, and very petty," quips Ethan.
The real reason the duo wants to race in TARA is that Khairie is in the middle of a quarter life crisis. The good thing is that it spurred him to get off the couch and seize the chance to live an adventure. Dragged along for the ride is his buddy, Ethan, who once broke a tuk tuk driver's guitar in Cambodia and left him to deal with the angry man.
Still, both are bent on winning the best they know how. As part of preparations for the race, they have been taking on… (hear it right) roller coasters! An interesting point to note is that this team finds it hard to get along with each other unless they have a common enemy that unites them. What with nine other teams for them to bond over, who needs a pep talk man.
Asia Season 4
Edit
Leg 1: 1st
Leg 2: 5th
Leg 3: 5th
Leg 4: 3rd
Leg 5: 1st
Leg 6: 5th

Failed to kick the ball through the goal post in 10 attempts and received a 10-minute penalty.

Leg 7: 4th
Leg 8: 3rd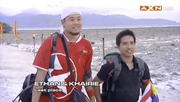 Memorable Moments
Edit
They got lost at the graveyard site during the Detour and they switched tasks resulting in a two-way battle with Richard & Richard. In the end, the Richards passed them at the money counting challenge, and Ethan & Khairie were eliminated.
Franchise
Edit
Highest average placing male team who came in 5th, 3.5
Highest average placing male team who won a leg and came in 5th, 3.5
Highest average placing male team who were the 6th team to be eliminated, 3.5
Highest average placing male team who won a leg and be the 6th team to be eliminated, 3.5
Most legs won by a male team who were the 6th team to be eliminated, 2 legs.
Youngest male team to be the 6th team to be eliminated, 25.5 (tied with Brian & Greg).
Youngest male team to finish in 5th, 25.5
Youngest male team to win a leg and come in 5th, 25.5
Youngest male team to win a leg and be the 6th team to be eliminated, 25.5
External links
Edit