Eric & Jeremy
Team Profile
Members
Eric Sanchez
Jeremy Ryan
Age
27 (Eric)
26 (Jeremy)
Hometown
Deerfield Beach, FL (Eric)
Pompano Beach, FL (Jeremy)
Relation
Friends
Occupation
Waiter (Eric)
Valet (Jeremy)

---

Legs Competed
12
Placement
2nd
Gallery
Link
Eric Sanchez and Jeremy Ryan are a team of Friends on the 9th season of The Amazing Race.
Jeremy & Eric, best friends from Fort Lauderdale, Florida, met while running college track at Johnson County Community College. Both are admittedly cocky, very competitive and strong athletes. They are avid volleyball players who frequently compete in local tournaments.
Sarcastic and patient, Jeremy is well-traveled and ready for the adventure of a lifetime. He works as a valet and is hoping the Race will help him to make something of his life.
Eric, who works as a waiter and a bartender, has little experience traveling outside of the United States. A two-time NJCAA Track and Field All American in the pole vault, Eric describes himself as being athletic and outgoing. His biggest pet peeve about his teammate is that Jeremy won't take criticism.
The former collegiate athletes hope their physical abilities will help carry them past the competition to the $1 million prize.
In the eleventh season, Eric partnerd up wth Danielle from (Danielle & Dani) and won the race.
The Amazing Race 9
Edit
Race History
Edit
Leg 1: 1st
Leg 2: 2nd
Leg 3: (1st) 1st
Leg 4: 2nd
Leg 5: 1st
Leg 6: 1st (Fast Forward)
Leg 7: 4th
Leg 8: 1st
Leg 9: 2nd
Leg 10: 2nd
Leg 11: 2nd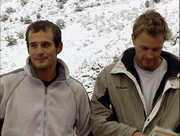 Post-Race
Edit
They become One of 56 teams to never check in last at a pit stop and the finish line in their career.
References
Edit
Want to play Survivor yourself?

Join our version, Survivor: Wikia - Sardinia!
Hey! Want to play Survivor yourself?

Join our version, 703 Survivor!