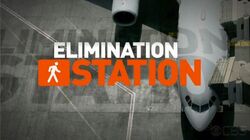 Elimination Station was a web-based series in which eliminated teams from The Amazing Race were sequestered at different locations where they were allowed to relax and sight-see, until they are then flown to the final city for the very end of the Race. It debuted on CBS.com during the All-Stars season until it was discontinued on The Amazing Race: Unfinished Business.
All-Stars - Acapulco, Mexico
Season 13 - Acapulco, Mexico
Season 14 - Ko Samui, Thailand
Season 15 - Phú Quốc, Vietnam
Season 16 - Puerto Vallarta, Mexico
---
Ad blocker interference detected!
Wikia is a free-to-use site that makes money from advertising. We have a modified experience for viewers using ad blockers

Wikia is not accessible if you've made further modifications. Remove the custom ad blocker rule(s) and the page will load as expected.