Elimination
Comments

0
1,062pages on
this wiki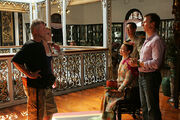 A team is Eliminated from the Race if they arrive to a Pit Stop behind all other teams, except in certain circumstances. If a leg is a Non-Elimination Leg, the last place team is saved and may have to face a penalty. If the leg is a Superleg, the teams receive another clue from Phil and keep racing. When a team is eliminated they must quickly either leave the pit stop, to go home or pay themselves for their own stay.
There are only three teams not eliminated every Race; the winners, second place team, and the third place team. Every other team is eliminated at the pit stop, unless they cannot finish a challenge. Phil Keoghan may go out to the team's location to eliminate them if they won't/can't finish a task (Marshall & Lance in Season 5, Lena & Kristy in Season 6, Toni & Dallas in Season 13, Maria & Tiffany in Season 15, Dana & Adrian and Joe & Heidi both in Season 16).
"Philimination"
Edit
The eliminations themselves have now earned the name "Philimination" in the Amazing Race fan community, a portmanteau of the host's name and the word "elimination".
Elimination Station
Edit
Main article: Elimination Station
Started on Season 11, a CBS.com web series followed the eliminated teams as they wait for the race to conclude and ended on The Amazing Race: Unfinished Business.
Sequesterville
Edit
Main article: Sequesterville
Sequesterville is a centralized place where eliminated teams are sequestered for the duration of the Race. Here, racers must wait until the Race has neared the final leg.
Want to play Survivor yourself?

Join our version, Survivor: Wikia - Sardinia!
Want to play Survivor yourself?

Join our version, Survivor: Wikia - Sardinia!