Dimple & Sunaina
Talk

0
1,089pages on
this wiki
Dimple & Sunaina
Relationship
Travel Buddies
Teammates
Sunaina Gulia
Dimple Inamdar


---

Season
Asia 4
Place
6th
Average Age
31.5
Average Placing
3.88

---

---
Dimple Inamdar and Sunaina Gulia are a team of Travel Buddies on the 4th season of The Amazing Race Asia.
Age: 31
Hometown: India
Occupation: Actress
Age: 32
Hometown: India
Occupation: Actress
AXN Biography
Edit
Indian television viewers would definitely find the two sassy lasses familiar. Dimple has been a TV actress for over 10 years, landing plump roles in soaps such as Aathvan Vachan while Sunaina is most currently known for her role as Dr. Anjali in popular medical drama Dill Mill Gaye.
In fact, the all-girl team first met each other on the set of Khabi Naan Kabhi Naa eight years ago but have been chummy for the better part of three. Having forged a deep friendship the kind that only soul sisters have, the actresses declare that they have no secrets from each other. What's more, joining The Amazing Race Asia (TARA) has always been on the 'to-do' list for both of them!
The well-traveled pair of best friends has conquered more than twenty destinations between them and has no qualms when it comes to adventure sports, be it sky diving in Greece or surfing in Brazil. They also have a few tricks up their sleeves when it comes to preparing for the race. They've picked up mixed martial arts, jogging and yoga and feed regularly on a diet of previous TARA episodes. They think they've got what it takes to kick some a** in the race!
Asia Season 4
Edit
Leg 1: 4th
Leg 2: 3rd
Leg 3: 1st
Leg 4: 2nd
Leg 5: 4th
Leg 6: 6th

Failed to kick the ball through the goal post in 10 attempts and received a 10-minute penalty.

Leg 7: 5th (Virtual pit stop)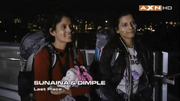 Memorable Moments
Edit
Was lost in leg 8 when they were finding their way to Kurrawa Beach in Gold Coast, Australia, where they have to find the detour clue in the sand. Whilst still completing the Detour in Coombabah, all the other teams have already checked-in; Allan asked them to come to the pit-stop in Kangaroo Point Park prior to their elimination.
Franchise
Edit
Highest average placing female team who were the 5th team to be eliminated, 3.71
Highest average placing female team who won a leg and be the 5th team to be eliminated, 3.71
Third team to survive the U-Turn
First team to survive a single U-Turn and not finish last in the same leg.
Highest average placing female team who won a leg and come in 6th, 3.71
Youngest female team to win a leg and be the 5th team to be eliminated, 31.5
Highest average placing female team, 3.71
External links
Edit