Debbie & Bianca
Team Profile
Members
Debbie Cloyed
Bianca Smith
Age
25 (Debbie)
26 (Bianca)
Hometown
Woodbridge, VA
Relation
Lifelong friends
Occupation
Photographer (Debbie)
High school teacher (Bianca)

---

Legs Competed
3
Placement
9th
Gallery
Link
Debbie Cloyed and Bianca Smith are a team of Lifelong Friends on the 7th season of The Amazing Race.
Debbie & Bianca are best friends from Los Angeles, California and Woodbridge, Virginia, respectively. Bianca is a high school teacher and Debbie works as a photographer. Their primary motivation for participating in the Race is to travel the world with each other and put their combined traveling skills to the test.
Bianca graduated from James Madison University with a B.A. in International Affairs and Spanish Art History. She currently works as a high school teacher and is finishing her master's degree of Education (with a concentration in multicultural studies). Bianca's favorite hobbies are traveling, reading and going out with friends.
Debbie, who graduated summa cum laude from The College of William and Mary in under three years, is currently a freelance photographer in Los Angeles. A wild child at heart when she was younger, Debbie now enjoys going to art museums, surfing and reading classic literature.
These best friends are well traveled, and both have lived abroad throughout their lives. They feel their years of traveling has prepared them for this moment, and they are ready to race.
The Amazing Race 7
Edit
Race History
Edit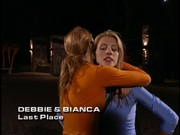 Post-Race
Edit
Debbie & Bianca are the first female team to win the first leg of the race.
References
Edit
Hey! Want to play Survivor yourself?

Join our version, 703 Survivor!