Danielle & Dani
Team Profile
Members
Danielle Turner
Dani Torchio
Age
22
Hometown
Staten Island, New York
Relation
Childhood Friends
Occupation
College Graduates

---

Legs Competed
4
Placement
8th
Gallery
Link
Danielle Turner and Dani Torchio are a team of Childhood Friends on the 9th season of The Amazing Race.
Danielle & Dani are childhood friends hailing from Staten Island, New York. The two beauties met over 10 years ago and have been inseparable ever since.
Outgoing and talkative, Danielle, who recently graduated from St. Johns University with a degree in Speech Pathology, has limited experience when it comes to traveling abroad and is eager to see what this globetrotting adventure has to offer.
Dani recently graduated at the top of her class from Wagner College. She describes herself as being fun-loving, wild and eager to get out of Staten Island. Like her teammate, Dani also hasn't traveled very much. She hopes the Race will provide her with the chance to explore all the different cultures in the world.
Armed with bold personalities and a fearless attitude, the duo believes that anything is possible with good looks and thick accents, which they aren't afraid to use if it helps them to win the $1 million prize
The Amazing Race 9
Edit
Race History
Edit
Leg 1: 9th
Leg 2: 8th
Leg 3: (6th) 8th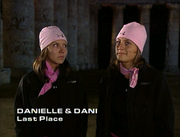 Leg 4: 8th (Yielded by Lake & Michelle; Eliminated)
Post-Race
Edit
References
Edit
Want to play Survivor yourself?

Join our version, Survivor: Wikia - Sardinia!
Hey! Want to play Survivor yourself?

Join our version, 703 Survivor!