Colin & Christie
Talk

0
1,066pages on
this wiki
Colin & Christie
Relationship
Dating
Teammates
Colin Guinn
Christie Woods


---

Season
5
Place
2nd
Average Age
25
Average Placing
2.46

---

---
Colin Guinn and Christie Woods are a Dating team on the 5th season of The Amazing Race.
Age: 24
Hometown: Corpus Christi, Texas
Age: 26
Hometown: Corpus Christi, Texas
Miss Texas Teen USA 1996
Miss Teen USA 1996
CBS Biography
Edit
Colin & Christie met in a class at the University of Texas in Austin and have been dating for over a year. Both now live in Corpus Christi, Texas. When Colin saw Christie give a presentation in their communications class, he knew that she was the one for him. It took eight months of being friends before he finally got her to go out on a date with him. Colin claims that he will ask Christie to marry him if they can get through the Race together.
Christie is the 1996 Miss Teen USA winner, the first and only one from Texas. However, she considers her biggest accomplishment in life to be working to pay her entire way through college and graduating with honors. She describes herself and her teammate as "very competitive, extremely aggressive with strong personalities." Although Christie says that she is always late, she is also a perfectionist who hates losing.
Colin is the owner of a cell phone store. Among the accomplishments he is most proud of is getting Christie to fall in love with him, which he claims is better than being the top first-year dealer for a book publishing company in the United States. He also agrees that he and Christie are both very aggressive and "very outspoken and in-your-face." However, he is a very open person who will talk to anyone, while Christie is extremely private.
Colin & Christie are excited about competing in THE AMAZING RACE 5 because they will be able to travel the world and participate in this kind of competition. Christie adds, "Another reason for doing this Race is that it is a test to see if we are marriage potential. I know we can win, and if we do, we're getting married right after the show."
Leg 1: 7th
Leg 2: 6th
Leg 3: 1st
Leg 4: 2nd
Leg 5: 1st (Fast Forward)
Leg 6: 1st
Leg 7: 2nd
Leg 8: 1st
Leg 9: 1st
Leg 10: 1st
Leg 11: 4th (Yielded by Chip & Kim; Non-Elimination)
Leg 12: 3rd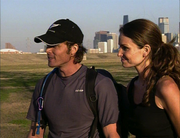 Memorable Moments
Edit
In Leg 8, Colin had to deal with police after refusing to pay their taxi driver the full amount.
In Leg 11's Detour, Colin was very frustrated, and yelled one of the most memorable lines in the show's history: "My Ox Is Broken!". This quote became the title of an Amazing Race-themed book by Adam-Troy Castro. This challenge returned as a Switchback in Season 25.
In the final leg, their American Airlines flight was delayed by the fog and they couldn't switch to United Airlines in Denver due to their bags being tagged by American. They offered to ditch their bags, but they learned that they cannot do that according to the FAA rules.
Franchise
Edit
First team to win three legs in a row.
Youngest male/female team to finish in 2nd, 25.
First team to be yielded (and come in last in the same leg).
Youngest team to win 6 legs in a career, 25 (tied with Dustin & Kandice).
First team to win six legs in a season.
First team to do a Fast Forward in a Season with 1/2/3 fast forwards only in that season.
Youngest male/female team to win a leg and come in 2nd, 25.
Highest average placing team with six legs won in a career, 2.46
Quickest team to win six legs in a season.
Highest average placing team, 2.46
Most legs won, 6 legs.
Highest average placing team in the final three, 2.46
Colin proposed to Christie in the Early Show, she accepted.
They got married.
They were expected to be in the all-stars edition, but couldn't make it due to Christie's pregnancy.
They eventually gave birth to a son, Achilles Alexander, and later a daughter.
External links
Edit
Want to play Survivor yourself?

Join our version, Survivor: Wikia - Sardinia!