Chip & Kim
Talk

0
1,002pages on
this wiki
Chip & Kim
Relationship
Married Parents
Teammates
Chip McCallister
Kim McCallister


---

Season
5
Place
1st
Age Average
45
Average Placing
3.38

---
Chip McCallister and Kim McCallister are a team of Married Parents on the 5th season of The Amazing Race.
Age: 46
Hometown: Coto de Caza, California
Age: 44
Hometown: Coto de Caza, California
CBS Biography
Edit
Chip & Kim have been married for over 25 years, are raising three children and reside in Coto de Caza, California. They met at a party in the summer of 1978. Kim caught Chip's eye as she was on the dance floor doing "the freak" in her Jordache jeans. When Chip introduced himself to Kim and asked if he could treat her to a drink of her choice, she flatly refused. He was undaunted, however, and kept persisting, finally obtaining her phone number. At first, Kim was not interested in Chip at all, but over time, he managed to change her image of him, especially when she saw him two months later cruising down Crenshaw Boulevard in his brand new royal blue 280Z sports car.
Kim is the owner of an information technology recruiting company. She says that her proudest accomplishment is marrying Chip and having their three children, Elon, Phillip III and Kristen. She says that she and her teammate are soul mates with the same life goals who want the best for each other.
Chip is the owner of a web technology company. Aside from marrying Kim, he said his second biggest accomplishment was finishing college at age 38. He said he most resembles boxer George Foreman, minus his money, and his wife looks like Olympic runner Florence Griffith Joyner!
Chip & Kim say they decided to apply for THE AMAZING RACE 5 because "several of our friends and family members have made calls to us to express their strong feelings as to why we should be on the show. That is why we started watching. Now, THE AMAZING RACE is our favorite show."
Leg 1: 8th

Missed a cluebox across the street from the blue and white hotel.

Leg 2: 8th
Leg 3: 7th
Leg 4: 1st
Leg 5: 4th
Leg 6: 2nd
Leg 7: 1st
Leg 8: 3rd
Leg 9: 2nd
Leg 10: 4th
Leg 11: 1st (Yielded Colin & Christie)
Leg 12: 2nd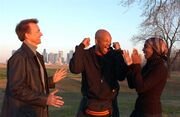 Memorable Moments
Edit
Jumped from last to first in the final leg because they were the first to discover that the American Airlines flight was delayed by the fog and they purchased tickets on the next earliest flight. This discovery led them to win the race.
Franchise
Edit
Oldest team to win The Amazing Race, 45 at time of filming.
First African-American team to win The Amazing Race.
First team to use the Yield, coincidentally the first winning team to do so.
First male/female team to use the Yield.
First team to win the race without using the fast Forward.
Oldest team to win 4 legs in a career, 45.
Highest finish by a male/female team, 1st Place (tied with Flo & Zach, Freddy & Kendra, Uchenna & Joyce, Linz Family, Eric & Danielle, TK & Rachel, Nick & Starr, Tammy & Victor, Meghan & Cheyne, Ernie & Cindy, Rachel & Dave, Tamara & Matías, Charlie & Rachel, and Lily & Jan)
Highest finish by a team with an age average of over 40, 1st place (tied with Uchenna & Joyce).
Lowest average placing male/female team with four legs won in a season, 3.38
Slowest team to win four legs in a season.
Highest amount of roadblocks performed by a single member (Chip) with 9 (Tied with Flo & Zach and Brandon & Nicole)
One of 53 teams to never check in last at a pit stop and the finish line in their career.
Oldest team in the Final Three, 45.
Lowest average placing team in the final three, 3.38
Only team to not check in last at a pit stop and the finish line.
External links
Edit