Charla & Mirna
Team Profile
Members
Charla Faddoul
Mirna Hindoyan
Age
27 (Season 5)
30 (All-Stars)
Relation
Cousins
Occupation
Real estate investor (Charla)
Attorney (Mirna)

---

Legs Competed
7
Placement
6th

---

Legs Competed
13
Placement
3rd
Gallery
Link
Charla Faddoul and Mirna Hindoyan are a team of Cousins on the 5th season of The Amazing Race, and the all-star season of The Amazing Race.
Charla & Mirna are first cousins from Phoenix and Towson, Maryland, respectively. Both were born in the same hospital in Syria, one month apart. They emigrated to the United States when they were young children. Charla & Mirna know that physically they are quite different, but say they "fill each other's gaps with strengths and weaknesses." In addition, between the two of them, they speak a variety of languages, including Armenian, Turkish, French and Spanish, and have traveled extensively to foreign countries.
Charla says she is married to the man of her dreams and is manager/co-owner of ten sportswear stores. She has a form of dwarfism and says she "certainly does not consider it a physical illness." In fact, she says she hopes "to show the world what I can do and break all stereotypes about dwarfs!"
Mirna is an attorney who graduated from the University of Maryland School of Law at age 23, the youngest in her class. While she describes herself as "sometimes too bossy and controlling," she blows off steam by doing some favorite activities such as running and cycling. Mirna also claims to be a frequent winner at blackjack tournaments.
Charla & Mirna describe themselves as "a unique team, definitely one of a kind, extremely comical and aggressive" and are excited about competing in THE AMAZING RACE 5 so that they can travel around the world and win.
All-Stars (2007)
Edit
The inspirational cousins from Season 5 are back for another trip around the world. Charla and Mirna have both made numerous television appearances since their time on Race and are eager to capture America's heart once again. Both are now married and ready to start a family.
A highly competitive team during their season, Charla, who stands at 4 feet tall, describes herself as dedicated, passionate and driven to succeed. Mirna describes herself as hard working, a leader, but with a comical side. Her greatest achievement is obtaining her Juris Doctorate at age 23.
Charla proved just how strong she was when she threw a 50 pound slab of meat over her shoulder and helped carry it a quarter of a mile in order to complete a challenge with Mirna. Growing up together taught them how to work well with each other. Both are well traveled and speak several languages.
This motivated duo is proud of the way they played the game last time around and are eager for another opportunity to win the $1 million prize.
The Amazing Race 5
Edit
Race History
Edit
Leg 1: 5th
Leg 2: 2nd
Leg 3: 2nd
Leg 4: 4th
Leg 5: 2nd
Leg 6: 5th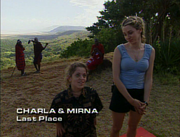 Leg 7: 6th (Eliminated)

When they land in Dubai, they were shocked to learn that their flight has been delayed for a couple of hours.
Got eliminated because their flight has been delayed.
The Amazing Race: All-Stars (2007)
Edit
Race History
Edit
Leg 1: 8th
Leg 2: 8th
Leg 3: 8th
Leg 4: 7th
Leg 5: 1st
Leg 6: 1st
Leg 7: 4th
Leg 8: 4th
Leg 9: 2nd
Leg 10: 3rd
Leg 11: 2nd
Leg 12: 3rd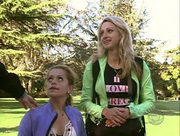 Post-Race
Edit
Charla & Mirna later appeared in the first episode of the tenth season of the sketch comedy series MADtv. They appeared in a parody of The Amazing Race, titled "The Amazing Presidential Race."
Charla is married and has one daughter. She also moved to Phoenix, Maryland with her husband, David Faddoul.
Mirna is married and gave birth to twins, Ava Marie Patricia and Michael Leo, on November 22, 2014.
Charla and Mirna took Colin and Christie's place for the Allstars (2007) They took their place due to Christie's pregnancy.
Charla & Mirna can speak several different languages, including Turkish, Arabic, Armenian, French, and Spanish.
Charla & Mirna were the first ever team of cousins.
They were the first team eliminated in Tanzania.
Charla & Mirna were the first team to win their first leg on their second attempt on the race.
Charla, the first dwarf contestant. (Followed by Mark and Michael)
External links
Edit
References
Edit