Chad & Stephanie
Team Profile
Members
Chad Waltrip
Stephanie Smith
Age
26 (Chad)
23 (Stephanie)
Hometown
Fort Lauderdale, Florida
Relation
Newly Dating (Legs 1-8)
Engaged
Occupation
Operations Manager (Chad)
Hair stylist (Stephanie)

---

Legs Competed
9
Placement
5th
Gallery
Link
Chad Waltrip and Stephanie Smith are a Newly Dating and Engaged team on the 17th season of The Amazing Race.
Age: 26
Hometown: Fort Lauderdale, Fla.
Connection to your Teammate: Boyfriend
Current occupation: Operations Manager
Favorite hobbies: Traveling, outdoor sports and cooking
Achievements: I've had a lot of success at my age within the company I work for, IST Management Services.
Lifelong to do list: Write a novel, complete an Ironman and run my own business
What scares you most about traveling? The thought of getting arrested while abroad for something I didn't do and not being able to get out of jail is a little terrifying.
What excites you most about traveling? The time leading up to the destination and the chance to see a totally different world from mine
If I could switch places with someone: Mathew McConaughey - It would be awesome to star in the movies he has been in as well as live life the way he does.
Role model/hero: My mom is definitely my biggest hero. She raised my brother and me alone for 11 years until she re-married. She always made sure we never lacked in experiencing life to the fullest or making excuses for why something couldn't be done. She passed away from cancer when I was 18 and fought until the very end.
What are you passionate about? I'm very passionate about living life to the fullest and getting to know all walks of life.
What would you do if you won the million dollars? If we were to win the million dollars, I would do my best to invest it wisely even though I might have to blow a little bit first.
People would be surprised to learn: I'm a great cook..
Favorite place you have ever visited: Ochos Rios, Jamaica
Biggest challenge you and your teammate will face on the Race together: Learning to communicate and take a back seat to each other will be our biggest hurdle on the road.
What do you hope to accomplish by running the Race (other then winning one million bucks)? I hope to grow as a person and as a couple. I really look to gain a whole new perspective on life from the travel and obstacles we will face.
Pet peeve about your teammate: She has a lot of great ideas, but does not always see them through.
Stephanie
Edit
Age: 23
Hometown: Fort Lauderdale, Fla.
Connection to your Teammate: Girlfriend
Current occupation: Hair Stylist
Favorite hobbies: Singing, swimming and water sports
Achievements: Biggest achievements include placing in the top 10 at Miss USA 2008 and being ranked nationally as a swimmer at age 14.
Lifelong to do list: It's really too long to list everything, but I want to start my own business, record my own CD, host a variety show and have a happy family of my own. To do these things, I have to keep setting goals and going after them with full force.
What scares you most about traveling? Breaking a law that I am unaware of
What excites you most about traveling? Learning about different cultures, people, religions and styles of clothing is what I look forward to most when traveling.
If I could switch places with someone: Celine Dion. I would love to know how it feels to perform as powerfully as she does.
Role model/hero: I have a lot of people I look up to for inspiration, my family and friends included. Although I have always been impressed with Kelly Ripa. You can't help but just love her.
What are you passionate about? I am passionate about whatever makes me happy. I am an enthusiastic person. If I like something and set out to achieve a goal, I am extremely passionate about that task.
What would you do if you won the million dollars? I would try to be a responsible young lady and pay school loans, have a family vacation and invest in another home. Maybe get a new wardrobe too.
People would be surprised to learn: I can sing. I was in a classic rock band in Charleston, S.C. I would love to start performing again.
Favorite place you have ever visited: I was a competitive swimmer growing up and was given the opportunity to train at the Colorado Olympic Training Center in Colorado Springs. It was a gorgeous place and such an exciting trip.
Biggest challenge you and your teammate will face on the Race together: Chad and I are so much alike. The things we love about each other are the same things we hate. Communication will be our biggest hurdle—and his temper.
What do you hope to accomplish by running the Race (other then winning one million bucks)? All the positive and negative experiences of traveling with someone you love and then to see how he handles problems we will have to face together.
Pet peeve about your teammate: He can be inconsiderate of other people's feelings and he can be very brash.

03:12

Chad and Stephanie
The Amazing Race 17
Edit
Race History
Edit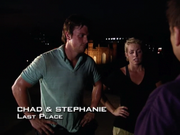 Leg 1: 8th
Leg 2: 4th
Leg 3: 3rd
Leg 4: 7th
Leg 5: 7th
Leg 6: 5th
Leg 7: 6th (30-minute penalty)
Leg 8: 1st
Leg 9: 5th (2nd U-Turned by Nat & Kat; Eliminated)
Post-Race
Edit
First team to be eliminated in Bangladesh.
First team to evolve their relationship during the race (followed by Alain & Audrey and Sally & Tyson)
References
Edit