Brian & Ericka
Talk

0
1,002pages on
this wiki
Brian & Ericka
Relationship
Married
Teammates
Brian Kleinschmidt
Ericka Dunlap


---

Season
15
Place
3rd
Age Average
27
Average Placing
4.25

---
Brian Kleinschmidt and Ericka Dunlap are a Married team on the 15th season of The Amazing Race.
Age: 27
Hometown: Nashville , Tennessee
Age: 27
Hometown: Nashville, Tennessee
Miss Florida 2003
Crowned Miss America 2004
CBS Biography
Edit
Ericka and Brian Kleinschmidt are excited to be the first married interracial team on The Amazing Race. They have a singular game plan in mind — to win over the hearts and minds of The Amazing Race audience by proving that true love is color blind. They compare their relationship to the Yin-Yang symbol, which represents the philosophy of two total opposites coming together as one to accomplish a common goal.
Ericka and Brian met at a leadership seminar at the University of Central Florida nine years ago, and it was love at first sight for Brian. Ericka, on the other hand, played hard to get for the next five years….but Brian's persistence finally paid off as the couple shared wedding vows over two years ago.
Ericka has lived a very structured, prim and proper life but plans to embrace her true self and expose a vulnerable side of her life beyond Miss America while racing around the world. Her life's goal is to become a country music recording artist.
Brian is an all-American guy who contends that nice guys do not always have to finish last. He has enjoyed life as a standout athlete, singer, actor, and loyal friend. The opportunity to extensively tour the U.S. with his job as a sports and entertainment marketing manager has further boosted Brian's confidence and travel expertise.
Though some may see Brian and Ericka as total opposites, they believe that their differences are actually their greatest strength and will propel them around the world all the way towards the finish line.
Season 15
Edit
Leg 1: 6th
Leg 2: 10th
Leg 3: 4th
Leg 4: 3rd
Leg 5: 2nd
Leg 6: 4th
Leg 7: 5th (30-minute penalty)
Leg 8: 3rd
Leg 9: 4th
Leg 10: 4th (Last) (Non-elimination Leg)
Leg 11: 3rd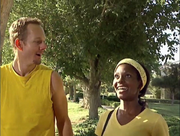 Memorable Moments
Edit
Franchise
Edit
First interracial couple ever.
First male/female team to finish the race without winning any leg at all.
Youngest married couple ever, 27.
Season 15
Edit
Oldest team in the Final Three, 27.
Lowest average placing team in the final three, 4.25
Highest finish by a team without winning any leg, 3rd place.
Highest average placing team without winning any leg, 4.25
After the Race
Edit
In 2010, together with co-racers Meghan & Cheyne, Brian & Ericka started Custom Quest, a company that produces Amazing Race-like events to help facilitate team-building and leadership for organizations and corporations. Their first produced event was The Gotham Quest in New York City on May 8, 2010 (2010-05-08) .
Prior to Meghan & Cheyne's marriage on May 7, 2011, Brian and Ericka are divorced.
External links
Edit
Ericka's Recent Tweets
Edit
Loading RSS data...