Bransen Family
Talk

0
1,002pages on
this wiki
Bransen Family
Relationship
Dad and Daughters
Teammates
Wally Bransen
Beth Bransen

Lauren Bransen
Lindsay Bransen

---

Season
Family Edition
Place
2nd
Age Average
29.5
Average Placing
3.18

---
Wally Bransen, Beth Bransen, Lauren Bransen, and Lindsay Bransen are a team of Dad and Daughters on the family edition of The Amazing Race.
Age: 51
Hometown: Park Ridge, Illinois
Age: 25
Hometown: Park Ridge, Illinois
Age: 22
Hometown: Park Ridge, Illinois
Age: 20
Hometown: Park Ridge, Illinois
CBS Biography
Edit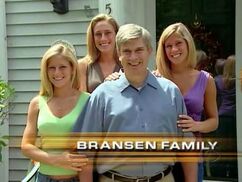 The Bransen family team, from Park Ridge, Illinois, is made up of a father and his three daughters, who once appeared together in a Pert Shampoo commercial several years ago.
Walter, 51, the self-proclaimed leader of the group, has been married for 31 years. He works as a CFO and is a native of Chicago. The proud dad of five children, Walter describes himself as being reserved and analytical. He is also a history buff in regards to anything about Abraham Lincoln and belongs to the Abraham Lincoln Association.
Elizabeth, 25, is the oldest daughter. She recently obtained a Masters in Social Work from the University of Illinois. Elizabeth describes herself as personable and trustworthy and has a fear of heights. She and Walter have similar personalities and sometimes their stubbornness can cause friction between the two.
Lauren, 22, recently earned a Bachelor's degree in Communications and Business Management from Hope College. Punctual and adaptable, Lauren admits she can be impatient.
Lindsay, 20, is the youngest of the sisters. Currently, she's enrolled at Hope College, also majoring in Social Work. Lindsay complains that her older sisters are always telling her what to do.
The Bransens are well-traveled and eager to compete as a family for the chance to win the $1 million prize.
Family Edition
Edit
Leg 1: 7th
Leg 2: 6th
Leg 3: 1st
Leg 4: 1st
Leg 5: 3rd
Leg 6: 3rd
Leg 7: 5th (Non-Elimination)
Leg 8: 4th
Leg 9: 2nd
Leg 10: (1st) 1st
Memorable Moments
Edit
Franchise
Edit
Family Edition
Edit
Oldest team in the Final Three, 29.5
Most legs won, 3 legs (tied with the Godlewski Family).
External links
Edit